The Advocate
Josh Pruzansky's mission to fund non-secular schools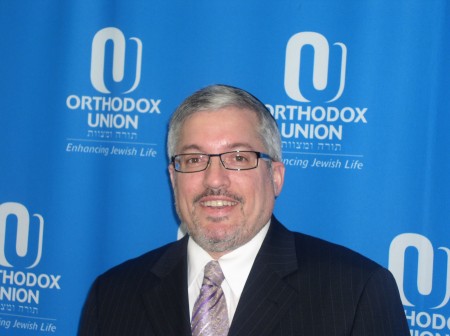 LAS alumni, Josh Pruzansky, is currently the NJ Regional Director of Public Policy for the Orthodox Union's Institute for Public Affairs
The Jewish community worldwide knows all about vigilance. But right in New Jersey, LAS alum and Bronx native Josh Pruzansky is serving as an emblem for that tireless community advocacy on a regional level. Ironically, the current NJ Regional Director of Public Policy for the Orthodox Union's Institute for Public Affairs graduated with a B.S. in accounting, although his yen for public service slowly surpassed any desire to crunch numbers for a living.
"I've always been interested in the fact that non-public schools were always getting the shaft, as far as funding was concerned, from the government," he explains. "That's something that I guess spurred my interest in becoming an accountant." While working with a firm that specialized in the non-profit sector, he recalls observing the politics that drove fiscal assistance to different institutions. Shortly thereafter, Pruzansky received an offer to become Executive Director of Yeshiva of the Telshe Alumni in Riverdale, an offer he proverbially couldn't refuse. Over the ensuing decade-plus, his work took him to multiple day schools, Yeshivas and Jewish-outreach groups in the tri-state area, further opening his eyes to educational discrepancies.
"What I saw as an executive director and just as a parent [was] that as a Jewish community we are spending a lot of money on taxes, yet we're getting very little back in return for our children," he says. "I always thought it was wrong, and I tried to alleviate that issue." It's been an uphill battle, as Pruzansky faces resistance from teachers unions, the red tape of local civic leadership and the difficulty of inspiring his fellow Orthodox to mobilize. Part of his approach to combating the odds is by in fact emphasizing an interfaith response.
"It needs to be rectified, but it means uniting all the faith-based communities in this effort, because we're facing a very staunch opponent," he encourages. "I've been working hand-in-hand with the Catholic caucus for the past four years here in New Jersey, and I've become very close with them. From our perspective and their perspective, this has wreaked havoc on our schools. There are schools closing every year, and the population is dwindling because the parents just can't afford it. In the Jewish community, while we're not closing schools, it's just become a very difficult challenge for any faithful family to maintain their lifestyle and keep their kids in school. It's coming to a head right now where parents are thinking to send their child to public school."
The danger there, according to Pruzansky, isn't a social concern, but one of passing on tradition and heritage. As he sees it, there just isn't ample time and resources in the public-school system to support the kind of Jewish education a child would receive in Yeshiva, Catholic school or other typically privately designated buildings. "Our tradition has always advocated Jewish education since the days that Jacob sent his son Judah to Egypt to establish a Yeshiva. Through very dark times, we've always had Jewish education as a major component of our children's childhood. Some public schools are great and teach our kids well and so on, but at the end of the day, where's their Judaism? Where's their heritage being taught to them?" There are Hebrew school classes offered as supplements to public school, but Pruzansky asserts that, "Those kids, after a long day in school, don't want to sit for another two hours to hear about their religion. It just becomes a turnoff."
One big step in his mission for change was taken earlier this year, when he joined New Jersey Governor Chris Christie on a trip to Israel. It was an experience that both humbled and uplifted Pruzansky, and one he hopes will begin a trend of awareness toward his cause. "To go to Israel with an elected official of his stature was an experience I've never had before, and I thought it was awesome," he states. "Hundreds of people stopped, and they're giving him babies and they're taking pictures with him. It was something I'd never seen before. That I was invited to join him on this tour, it was to me a major honor. It was great from a policy perspective. Even though New Jersey is not involved in foreign policy, I think he had a better understanding of where we stand as a community and our strong support of Israel."
But, as ever, Pruzansky remains vigilant. The only circumstance that might appease him would be if the state actually began funding education in non-public schools. "That would be a point I'd be very proud of," he says. "If we hit that level, then I'll say, 'You know what, we really accomplished something.'" Even then, the job might not be done. "You have to make sure it stays that way," he adds. "You might get funding, but there's always somebody looking to take it away. And if we keep it there, it has to grow."