The Science Journal - Volume XV - Number I - Fall 2021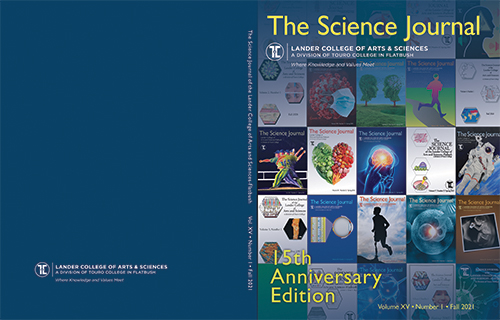 Cover picture: The cover picture was created by Professor Antony O'Hara of the Digital Multimedia Design Department, pertains to the 15th anniversary issue.
Executive Editors
Steven Eisenberger
Elena Eisenreich
Chaya Shor
Associate Editors
Elisheva Dusowitz
Eliyahu Greenberg
Esther Karman
Nekhama Riznyk
Rena Shilian
Aliza Shor
Charter Executive Editiors
Rivka Borger, P.A.
Michelle Gordon-Grunin, Ph.D.
Layout Advisor and Editor
Antony O'Hara MFA
Faculty Reviewers
Robert S. Bressler Ph.D.
Alan B. Levine D.C.
John D. Loike, Ph.D.
Evan A. Mintzter, Ph.D.
Faculty Advisor
Robert S. Bresssler Ph.D.
Chairman of Undergraduate Biology Programs
Lander College of Arts and Sciences
A Division of Touro College
Flatbush Campus
1602 Ave J
Brooklyn, NY 11230
718.252.7800
www.touro.edu