The Science Journal - Volume XII - Number I - Fall 2018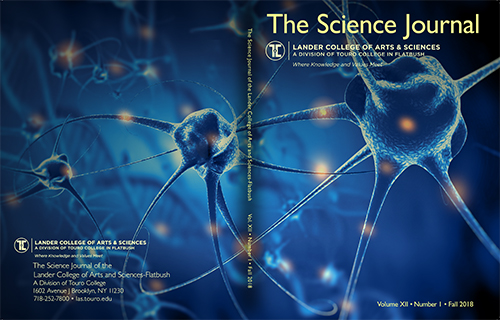 Cover pictures: The cover illustration, created by Professor Antony O'Hara of the Digital Multimedia Design Program, refers to papers by Etta Rubin, Moshe Baitelman, and Maddie Nierman that discuss topics related the the brain.
Editors-in-Chief
Moshe Baitelman
Shana Rosenblum
Associate Editors
Alexandra Iskhakov
Menachem Jacobs
Chaya Newfield
Bracha Rosenberg
Rena Schreier
Rena Shilian
Shira Toledano
Charter Executive Editors
Rivka Borger, P.A.
Michell Gorden-Grunin, Ph.D.
Layout Advisor and Editor
Antony O'Hara MFA
Faculty Reviewers
Robert S. Bressler Ph.D.
Alan Levine D.C.
John Loike, Ph.D.
Evan Mintzer, Ph.D.
Faculty Advisor
Robert S. Bresssler Ph.D.
Chairman of Undergraduate Biology Programs
Lander College of Arts and Sciences
A Division of Touro College
Flatbush Campus
1602 Ave J
Brooklyn, NY 11230
718.252.7800
tourosciencejournal@gmail.com
Table of Contents