The Science Journal - Volume X - Number II - Spring 2017
‌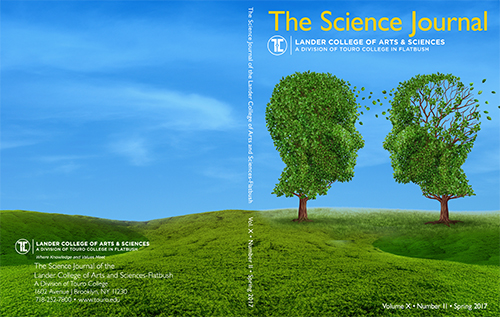 Cover pictures: The cover illustration, created by Professor Antony O'Hara of the Digital Multimedia Design Program, represents the gradual diminishing of mental function in Alzheimer's Disease. It reflects the theme of the first three articles.
Editors-in-Chief
Avi Jacob
Esti Gross - Senderowicz
Associate editors
Perel Astor
Raizy Berger
Michael Bergman
Sara Laks
Daniel Pomper
Yoni Pomper
Layout Advisor and Editor
Antony O'Hara MFA
Charter Editors
Rivka Borger
Michell Gorden-Grunin
Faculty Reviewers
Robert S. Bressler Ph.D.
Alan Levine D.C.
Evam Mintzter, Ph.D.
Faculty Advisor
Robert S. Bresssler Ph.D.
Chairman of Undergraduate Biology Programs
Lander College of Arts and Sciences
A Division of Touro College
Flatbush Campus
1602 Ave J
Brooklyn, NY 11230
718.252.7800
tourosciencejournal@gmail.com