Evan Mintzer, Ph.D.
Chair, Chemistry, Physics, Associate Professor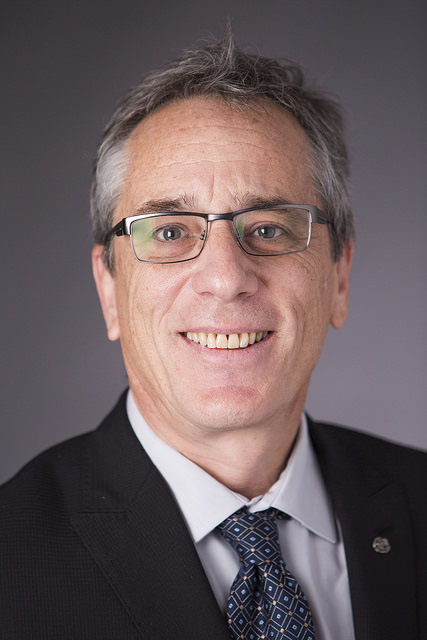 Campus:
Lander College of Arts & Sciences
Dr. Evan Mintzer has served as the deputy chair of chemistry and physics at LAS since September 2014. In addition to his teaching assignments, Dr. Mintzer regularly advises students regarding the pre-health professions, graduate school/program selection, career and research opportunities, course selection, and other areas of interest to the student body.
Education
Ph.D. February, 2005 Graduate School and University Center, City University of New York (Dissertation: Biophysical Studies of the Interactions of Several Bioactive Lipids in Model Membranes)
M. Phil. February, 2002 Graduate School and University Center, City University of New York
B.A. May, 1997 Queens College, City University of New York (cum laude)
Area(s) of Expertise
Isothermal titration calorimetry
Langmuir monolayers
Fluorescence spectroscopy (including FRET)
Lipids and membranes
Research
Dr. Mintzer's research focuses broadly on the biophysical properties of lipids and membranes, using highly sensitive experimental approaches (see below) to study several biologically pertinent projects, including:
Elucidating the mechanisms of action and resistance of daptomycin, a membrane-active anti-gram positive bactericide;
Characterizing the physico-chemical properties of lipid-polymer aggregates for use as drug delivery vehicles;
Studying the effects of the presence of lysophosphatidic acid;

Examining the interactions of "oxysterols" with membrane lipids and its effects on membrane properties.
Professional Service
American Chemical Society
Biophysical Society
Regular Courses Taught
General Chemistry 1 and 2
Organic Chemistry 1 and 2
Biochemistry
Publications
L. Gu, L.M. Nusblat, N. Tishbi, S. Noble, C. Pinson, E. Mintzer, C. Roth, K. Uhrich. Cationic amphiphilic macromolecule (CAM)-lipid complexes for efficient siRNA gene silencing. J. Control Rel. 184 (2014) 28-35
T. Zhang, J.K. Muraih, N. Tishbi*, J. Herskowitz*, R.L. Victor, S. Uwumarenogie, S. Taylor, M. Palmer, E. Mintzer. Cardiolipin prevents membrane translocation and permeabilization by daptomycin, J. Biol. Chem. 289 (2014) 11584-11591
T. Zhang, J.K. Muraih, E. Mintzer, N. Tishbi*, C. Desert, J. Silverman, S.Taylor, M. Palmer. Mutual inhibition through hybrid oligomer formation of daptomycin and the semisynthetic lipopeptide antibiotic CB-182,462, Biochimica Biophysica Acta 1828 (2012) 302-308
G. Zhao, P.V. Subbaiah, E. Mintzer, S.W. Chiu, E. Jakobsson, and H.L. Scott. Molecular dynamic simulation study of cholesterol and conjugated double bonds in lipid bilayers, Chemistry and Physics of Lipids 164 (2011) 811-818
A.M. Harmon, M.H. Lash, N. Tishbi*, D. Lent*, E. Mintzer, and K.E. Uhrich. Thermodynamic and physical interactions between novel polymeric surfactants and lipids: toward designing stable polymer-lipid complexes, Langmuir 27 (2011) 9131-9138
E. Mintzer, G.Charles*, and S. Gordon*. Interaction of Two Oxysterols, 7-Ketocholesterol and 25-Hydroxycholesterol, with Phosphatidylcholine and Sphingomyelin in Model Membranes, Chemistry and Physics of Lipids 163 (2010) 586-93
P.V. Subbaiah, D. Sircar, B. Aizezi and E. Mintzer. Differential effects of conjugated linoleic acid isomers on the biophysical and biochemical properties of model membranes, Biochimica Biophysica Acta 1798 (2009) 506-514
Z. Li, E. Mintzer, and R. Bittman. First synthesis of free cholesterol-BODIPY conjugates, Journal of Organic Chemistry 71 (2006) 1718-1721
E. Mintzer, H. Sargsyan, and R. Bittman. Lysophosphatidic acid and lipopolysaccharide bind to the PIP2-binding domain of gelsolin, Biochimica Biophysica Acta 1758 (2006), 85-89
Z. Li, E. Mintzer, and R. Bittman. The critical micelle concentrations of lysophosphatidic acid and sphingosylphosphorylcholine, Chemistry and Physics of Lipids 130 (2004) 197-201
E. Mintzer, B.L. Waarts, J. Wilschut, and R. Bittman. Behavior of a photoactivatable analog of cholesterol, 6-photocholesterol, in model membranes, FEBS Letters 510 (2002) 181-184
*Undergraduate student co-authors.