An Experience of a Lifetime with Touro
Lander College for Arts and Sciences pre-med student Moses Bibi shares how a medical mission to Nepal changed his view of the world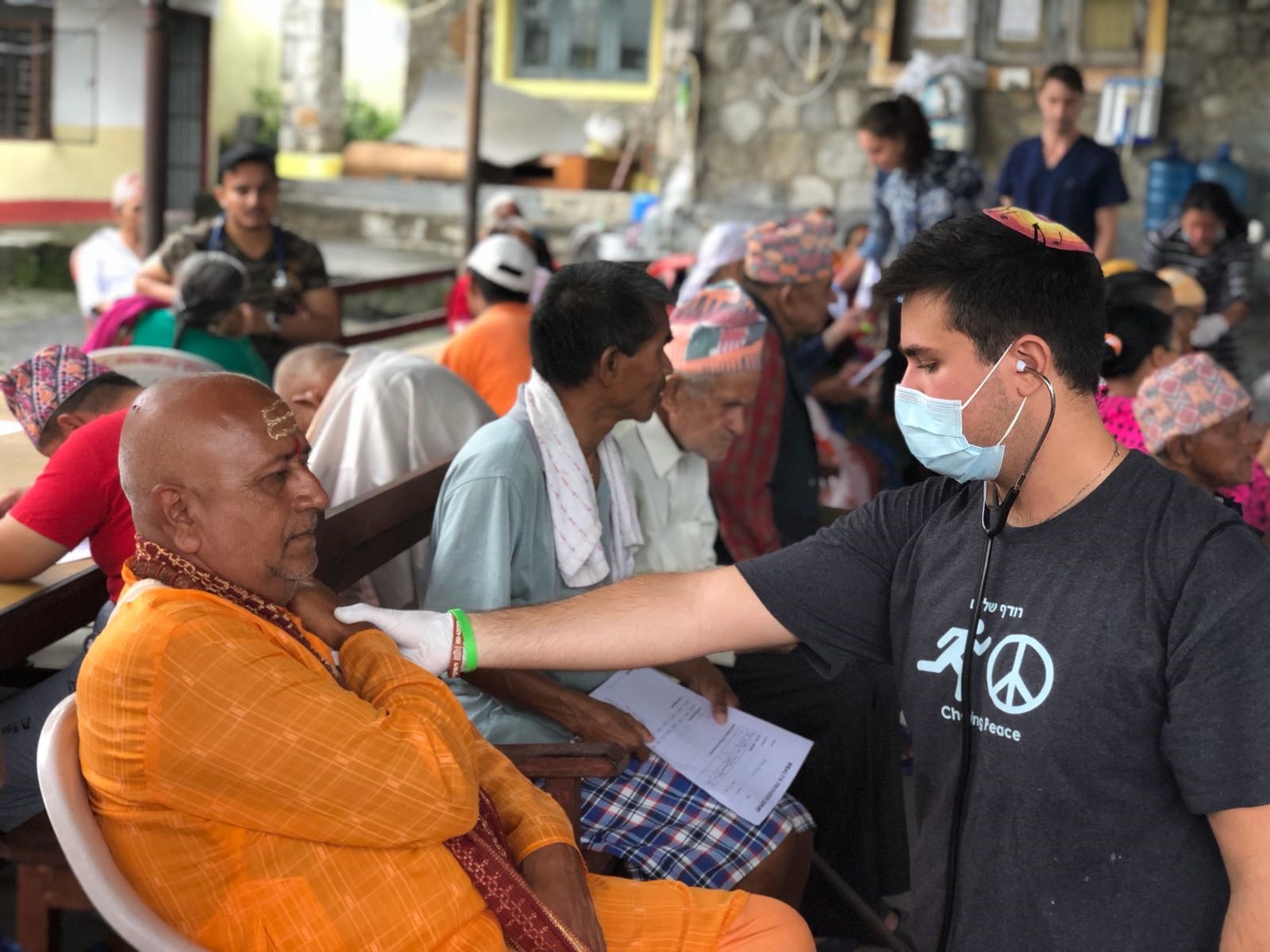 While many people travel over the summer, not everyone gets the incredible opportunity to assist in providing free healthcare to underserved communities in Nepal. Yet, this August, I did just that when I joined 17 other Touro College pre-health students to participate in a special Nepali program.
With a population of nearly 28 million people, Nepal has only 20,000 doctors. The true scale of this ratio didn't hit me until we stopped at our first clinic in Sipadol, a village located in the Bhaktapur district outside of capital Kathmandu. There, a 12-year-old girl named Ashrina, who spoke English very well, was talking to me about her life at school. As I began to check her blood pressure and rate of breathing, I asked her when she last saw a doctor. That was when she told me that she has no memory of ever visiting a doctor. At that moment, I realized that our team might be the first set of health care personnel to ever provide a check-up to many of these people. Our mission was even more critical than I ever imagined.
Over the course of our 10 day trip, we all rotated at assigned stations within these clinics, as well as spent quality time with the Nepali people. Whether it was a conversation with a teacher at the school we were visiting or a full-blown dance party with the students, it was such a blessing to help these communities, while also learning about their culture. Being exposed to a culture that is so different from anything I have ever experienced—from their customs to the way they dressed and ate—was unforgettable.
Each time we visited a new place, we were greeted with a traditional Nepali welcome that included being presented with a tikka, a red dot made of powder that is placed on the forehead, a necklace made of flowers picked from local fields, and a polite and careful bow with a softly spoken "namaste."
Despite our differences, we are all the same
For me, what was most refreshing was realizing that we aren't all that different. I think the best example of this would be when I saw a teenage boy surrounded by his peers as they all loudly sang a Justin Bieber song. He knew every word by heart, just like my friends here in the U.S.
As the days progressed, it was truly amazing to see how our group continued to grow closer and bond as we worked together to help others. For many of us, these clinics gave us our first opportunity to act as a caretaker in what we hope will be long and successful professions in the health care field.
My initial fear of being unable to relate to these patients dissipated by the end of the trip. Although there was a language barrier with many of the Nepalese patients, constant smiles and a reaffirming touch were the universal language necessary to enable patients to feel at ease as we cared for them.
We also managed to have some amazing adventures on this trip such paragliding over the lake of Pokhara, whitewater rafting through the Trishuli River, and hiking through the mountainous region of Nagarkot. None of this would have been possible without the supervision of Dr. Steven Jacobs, the Chabad of Kathmandu, who hosted our every meal and allowed us to spend Shabbat in their synagogue, as well as the Nepali people we met and for who we had the pleasure of caring. To say that we felt welcome would be an understatement; the people of Nepal truly made us feel at home.
This life changing experience is one I will remember forever and I am certain that the lessons it taught me will remain top of mind as I study to become a doctor.