An Unstoppable Drive
Professor Yehoshua Bochner was "the little bus-driver that could."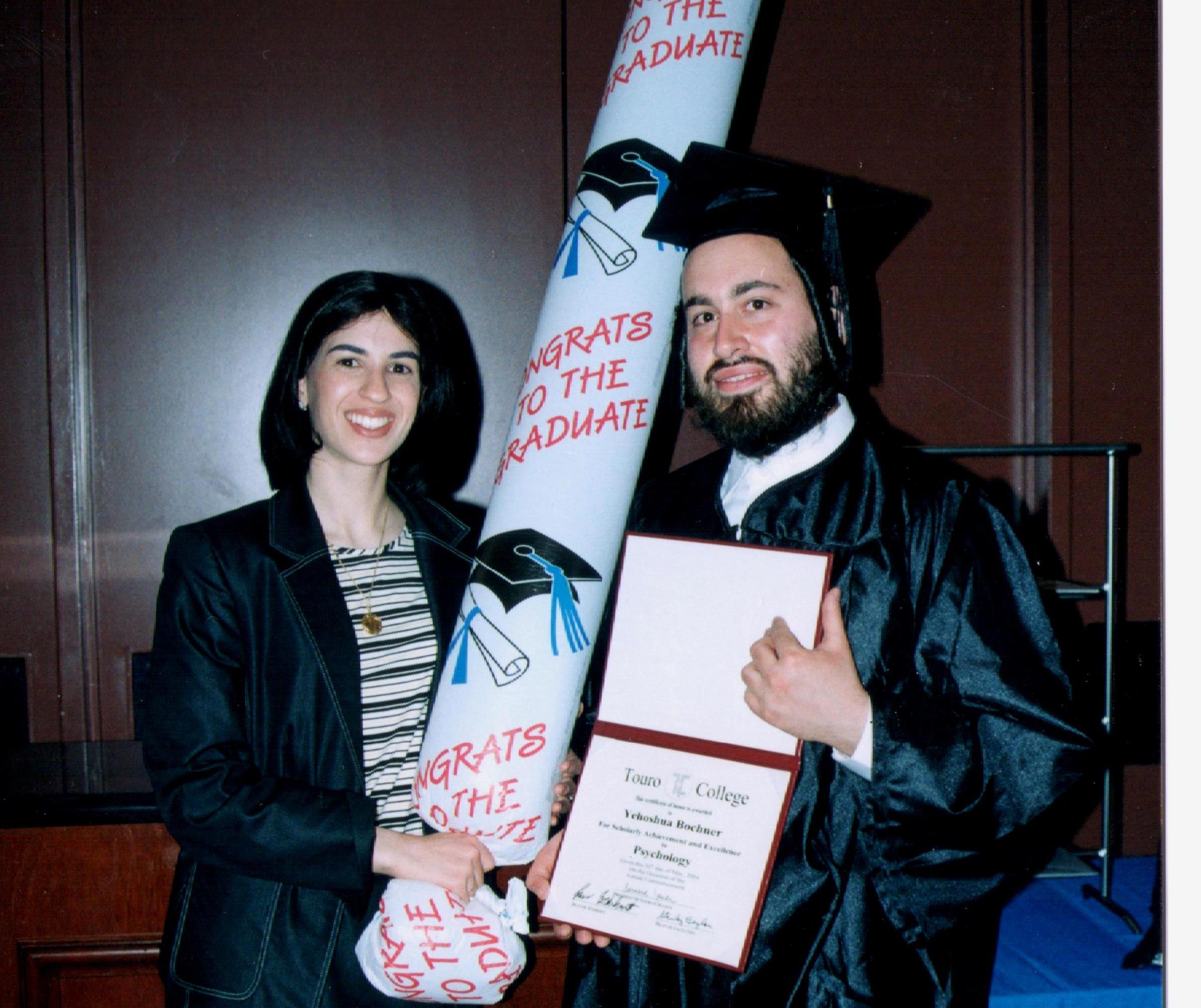 Yehoshua Bochner wears many hats: He's a Lander College of Arts and Sciences (LAS) alumnus. A Ph.D. candidate at Fielding Graduate University of Psychology. Adjunct professor at LAS. Husband. Father of five. Bobov Chasid (his shtreimel—a literal hat, that one!)
And several years ago, he wore another hat—that of a bus driver. In his first few years as an LAS student, the dedicated young man drove a school bus every day to provide for his growing family—Shia Bochner was married, and a father of three at the time. And since he usually completed his last run of the day quite close to the start of his first class at 5:55 pm, he realized that the only way to make it to class on time would be to drive the bus straight to LAS. ("It was interesting," he remembers. "Students always complained about the lack of parking spots…I'm just glad they didn't discover the abundance of space just a block away!")
So how did this bus driver become an adjunct professor of psychology?
Ever since middle school, Bochner knew he wanted to someday become a psychologist.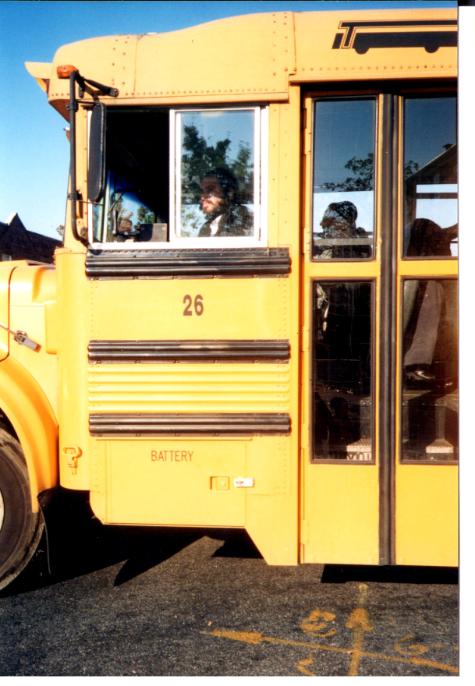 I was called Mr. Sensitive as a kid. Feelings, emotions, people… always concerned me," explains Bochner. "I remember criticizing rebbeim for their strictness and feeling that so much potential is unrealized. Everyone's pain was very real to me, and I wished I could be in a position to make their lives better."
But after he graduated high school, it wasn't quite a smooth path to the doctorate.
Bochner's lack of a solid secular education was a serious impediment to academic success. Upon entering college, Bochner realized that he barely knew the multiplication tables or how to properly construct a coherent sentence. His financial and family obligations also made it particularly stressful. And finally, pursuing higher education in his Bobov Chasidic community was generally frowned upon. His acquaintances and friends couldn't understand why such an "average, eidel Bobov boy" was "breaking so many communal norms." In fact, Bochner recalls how one particular individual scoffed at the notion that the young man would ever become a psychologist.
The comment was difficult to hear, relates Bochner, especially since the individual was probably quite correct: Pursuing a doctorate was actually, in truth, quite unrealistic for him.
Ignoring the eyebrow-raisers in his community, though, Bochner decided to pursue the path anyway. His first step: tutors. Taking the money he and his wife received as presents for their wedding, Bochner hired a tutor for every secular subject he was enrolled in at LAS. He spent an astounding sum—$20,000 total—to catch up to his peers and to prepare for the eventual Graduate Record Examinations (GRE), but he never regrets making that decision. "I knew that my education was important, and that I really had to do well in college if I wanted a shot at a professional life," he says.
Between bus runs, he would review his tutoring session notes, do homework, or study for exams. "Driving a bus was optimal," explains Bochner, "because it was relatively undemanding and provided me enough time to excel in college. Some people in my community would see my studying on the bus and laugh and say, 'Shia and his notes—he thinks he's gonna be a doctor one day!'"
But Bochner would just smile, ignore them, and keep studying. Eventually, he completed one semester, then a year, then three. He finally graduated LAS in 2004—summa cum laude—with his Bachelor's degree in Psychology, and received the Excellence in Psychology award at commencement. His first hurdle down, he applied—and was accepted—to the Ph.D. clinical psychology program at Fielding Graduate School of Psychology a few years after graduation.‌
For Bochner, Fielding was "a perfect fit." Fielding is a fully APA-accredited institution (so the courses are particularly rigorous and demanding, says Bochner) but it's not a traditional brick-and-mortar institution since the program caters to adult learners with families and professional responsibilities. Fielding's "phenomenal" faculty provided him with a tremendous educational experience and opened many doors for him professionally.
After spending his first year of clinical training at Fielding as an extern for Brooklyn College's Counseling Center, Bochner spent his second year at the Regional Diagnostic Treatment Center (RDTC) of Newark Beth Israel Medical Center. The RDTC provides assessment and intervention for children who are suspected to be victims of sexual and/or physical abuse, and Bochner was responsible to conduct psychosocial/health evaluations of these children.
"The pain of listening to children talk about their horrific abuses with an inability to understand what was happening to them was indescribable. They spoke about it so nonchalantly, like…like you would describe the snow failing outside. I remember walking out of the hospital after one particularly difficult day and just felt like everything around me was turning," he says.
The RDTC required intensive assessment and meticulous note-taking, since many of the reports would be used as testimony in court. For Bochner, the summer was "an intense, but very experiential one."
After Beth Israel, Bochner began an externship at the Institute for Psychoanalytic Training and Research (IPTAR). As part of his training for IPTAR, Bochner worked as a counselor-therapist at an alternative high school called Satellite Academy for struggling teenagers with traumatic and criminal histories.
It was an "ironic" match, recalls Bochner: Him, a Bobover Chassid, a counselor-therapist for a minority-populated high school, many of who—self-admittedly—had rarely, if ever, interacted with Jews. "I definitely stood out in my suit, jacket, and hat," he admits ruefully.
With time, though, the counselor managed to become endeared by the school and its students. On his last day, a student told him, "You know, Shia, when you first came here we all thought you were crazy. Then, word got around that you're a cool dude!"
(After his extensive counseling work done for the African-American and Hispanic students at Satellite, Bochner was invited by the United Jewish Organization to speak to Brooklyn public school children at an event—organized in response to a series of recent assaults on Chassidim in Brooklyn—that aimed to humanize Chassidim and their culture. Bochner's speech, which "drew on my experience working at the high school," was an attempt to "lessen the stereotypical myth of 'those weird funny people with black coats,' which would hopefully serve to lessen the friction between the communities," he explains.)
After its first successful year, Satellite Academy asked Bochner to stay an additional year. Bochner did so gladly, and even secured a generous grant to help establish the school's first counseling center. On his days off, he participated in a significant research project on eating behavior and weight being conducted at St. Luke's-Roosevelt Hospital in collaboration with Columbia University.
Meanwhile, LAS was keeping tabs on their dedicated alumnus. Bochner had been in grad school for three years already and now had five children, the youngest 10 months old. Dr. Melech Press, Chair of Psychology, remembered their talented graduate and offered him a position as an adjunct instructor. Bochner gladly accepted four courses: abnormal psychology, developmental psychology, theories of personality, and introduction to counseling and psychotherapy. Until today, his students call him one of their most "dynamic" professors at LAS. Bochner, humble, shrugs at the compliment.
"I only like teaching if I could be dynamic. I can explain depression as a DSM disorder coded 296.21, or I can make it alive. I want to provide them with a classroom experience that makes it worth their money. Also, honestly, I need to keep awake….or I'll fall asleep during my own lectures!"
The professor is also enthusiastic about having his students form independent opinions. "I see my job, partially, as a medium to stimulate their thought process. I always say, 'My point is not to convince you of my perspective, but to make you think about yours.' I want them to think out of the box, I want to challenge them."
Torah and psychology is one topic Bochner is very passionate about, himself. But he often clarifies—to his clients, his students, and supervisors—that just because he's a Chassidic Jew doesn't mean he'll be judgmental about his clients' issues.
"Quite the contrary," he says. "Overstepping the professional code in this way will ultimately serve to sabotage both – the psychological intervention and any religious-related advice. It's misguided, and even dangerous, to conflate Torah and psychology together. Mental illness and human struggle should be dealt with separately from religion.
"I try to help my patients work-through and clarify their struggles to heal and recover, but I'm not functioning within a religious capacity. I have no vested interested one way or another. My role is not to impose my own religious standards on my clients—it's to understand my patient's psychologically-related struggles.
"Of course," he qualifies, "religion, religious conflicts, and religious observance is a legitimate issue to discuss in psychotherapy as much as it is a valid issue to discuss one's vacation destiny, marriage partner, depression, or which company of pickles to purchase. But the confusion sometimes occurs when psychologists think they're rebbeim or Roshei Yeshiva, or vice versa," he continues. "Psychology does not negate religion; it's just a different issue. The expertise necessary to be a psychologist doesn't overlap with expertise in Torah."
An energetic believer in following one's dreams and career passions, Bochner's advice for students whose friends or family members discourage their potential career options is to shrug them off. "The naysayers in your life will be plenty. So many people will advise you not to chase your dream, will tell you to curb your enthusiasm. But if you really want to pursue something, don't listen to them. Go for it anyway."
Bochner also advises students not to let the number of years in school scare them off from pursuing a profession. "People would tell me, 'It's going to take you 10 years to become a psychologist. By then you're going to be 40!' they say. So I tell them, 'Nu, aren't I turning 40 anyway?' Never be afraid of trying. If you try and fail, you're still better off than those who didn't try."
"Whenever I came across difficult times, these small voices came back to me, whispering 'you'll never make it.' but I'm so glad I didn't listen.
"It's been a long ride, but it's almost over."