Art You Ready For Creativity?
In Professor Susan DeCastro's classes, students discover their inner artists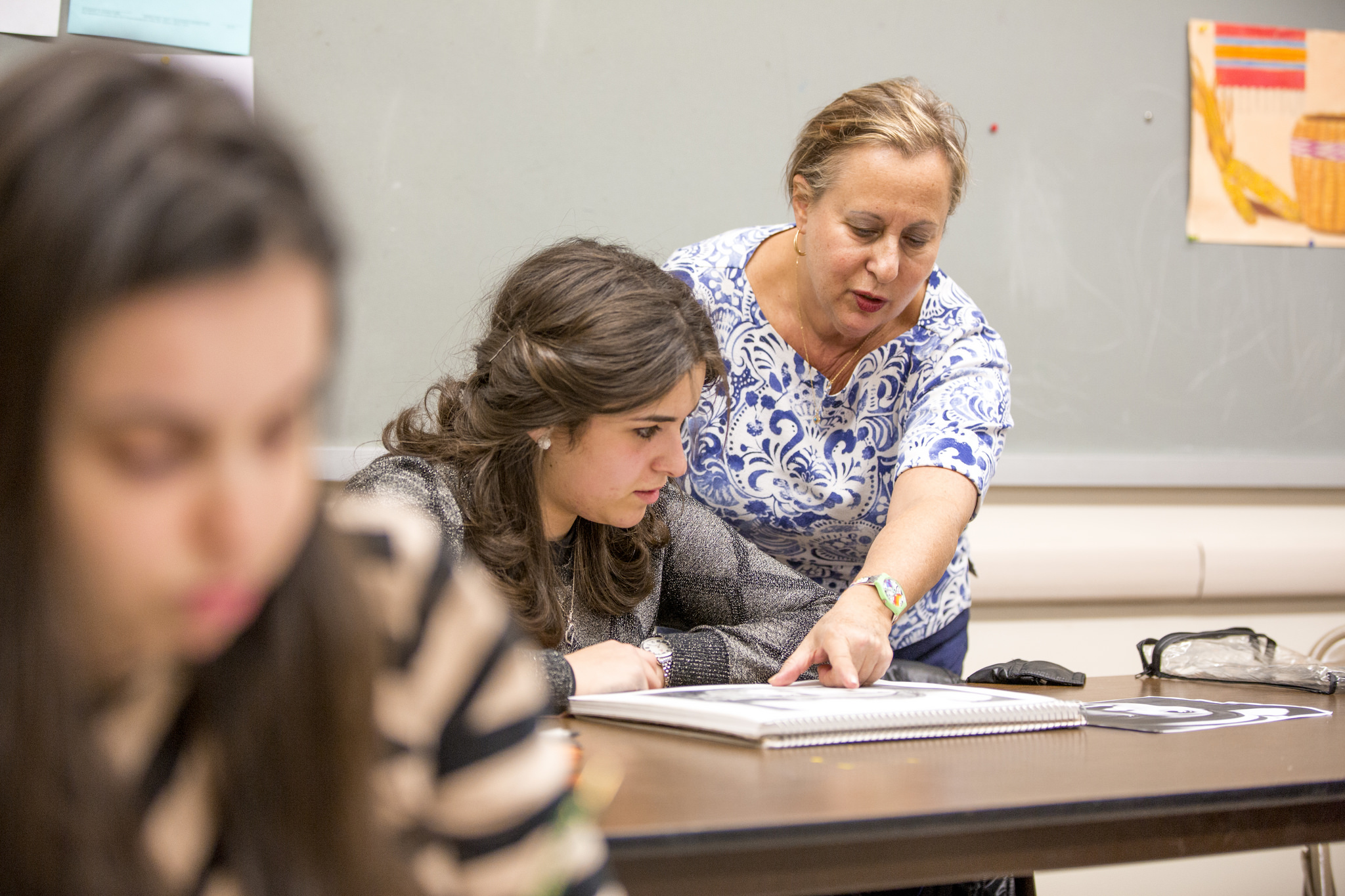 One student, humming under her breath as she paints the pink petals on a rose, looks up when she notices Professor Susan DeCastro watching her. "The texture is coming out really well!" DeCastro encourages her. "You're getting there!"
DeCastro moves a few feet down to watch another student grapple with the blue shades on a dancer. "Nice job, Eliana! You're really capturing the movement of the dress." She stops to give a tip to the class, and the students all look up. "When you paint, reflect the movement of your brush according to the feeling of movement your subject possesses. In this case," she points to the canvas, "a dancer is striking a pose, so the brushstrokes should move like the dress is. If there's no movement, though—such as in a landscape—you'd keep your brushstrokes flat."
For fifteen years, Professor Susan DeCastro has served as a full-time faculty member and the coordinator of the Digital Multimedia Design Department at Touro College, travelling between Touro's undergraduate divisions— LAS, LCW, and NYSCAS— to teach multi-level courses in drawing, painting, and digital multimedia design.
A prolific artist, DeCastro received her Master of Arts from New York University and Bachelor of Fine Arts from Temple University's Tyler School of Art, studying a semester abroad in Rome, Italy. She's also studied computer graphics and typography at the School of Visual Arts (SVA) in New York—a prestigious design college placing second on the "best schools for designers" list in 2014. These days, when she's not teaching, she spends three to four afternoons a week painting at the Art Students League of New York. She often summers in Italy, at Artist-in-Residency programs, where she receives inspiration from fellow colleagues and brings back fresh ideas to her classes. "I'm a lifelong learner," she laughs.
Although Professor De Castro taught art in Philadelphia public schools for several years before moving to New York, she says she found her calling in college-level teaching when she began working at Touro.
"For many students, this might be the only art class they'll ever take. So I take great pride in the fact that my class gives them a chance to do something they wouldn't be exposed to otherwise.
"I believe all students should learn art fundamentals," she adds, "Even students who aren't majoring in digital multimedia design. It opens their eyes to the world of aesthetics. And aside from learning new techniques in old-fashioned fine art media and current computer technologies, they develop self-confidence and a sense of ownership of their creative selves."
"I think it's peaceful," says Frieda Wercberger, LCW '16, a student in Drawing and Painting II at Lander College for Women—the Anna Ruth and Mark Hasten School (LCW), who has stayed in school until 9:30 at night, sometimes, to keep painting. "It's like art therapy," she says.
Though DeCastro's courses are of great breadth (the professor has even brought in a prima ballerina to pose for students in class, so they can practice gesture drawing), the professor admits that her favorite topic to teach is color theory. "Color is my personal outlet for expression," she says. "I live and breathe color—in how I dress, how I feel, and how I paint—and in my own paintings I experiment with color to emphasize hues, values, and complements."
Yet DeCastro emphasizes that she is careful not to push her own style onto her students.
"In the beginning of my course, all students learn basic rendering techniques, then add light and shade. I teach about composition and proportion. After a few classes, I can determine which students like structure, and which would prefer to explore their own creativity. Once I see that, I cater to each student individually.
"My goal is to bring out the best in my students, so I promote individuality and artistic interpretation. I help them explore and extract their own styles. And the final results are unpredictable…that's what I love about the class. It's exciting!"
And apparently the professor is successful.
For Sara Liberow, a psychology major pursuing occupational therapy at LAS, DeCastro's Drawing and Painting I class helped her discover her own artistic talents. "I never thought of myself as an artistic person, never knew I had it in me, but through the structure of the class I was able to discover my passion for art and channel it," says Liberow, who grew so enamored with her class that she eventually chose to add on a minor in visual arts "just for fun, just for myself."
DeCastro glows at the term. "The best feeling I get is when students show me something they drew or painted at home when it wasn't assigned as homework. At first most of the students are hesitant when I tell them to sketch with charcoal or paint 'and experiment'; they aren't used to the freedom. But eventually they end up loving my class. And when one of them decides to embark on an act of artistic creation, without being told to do it—that's the moment they become an artist."