Businessman by Day, Student by Night
How Joe Roth, LAS '15, became an all-star entrepreneur…at age 22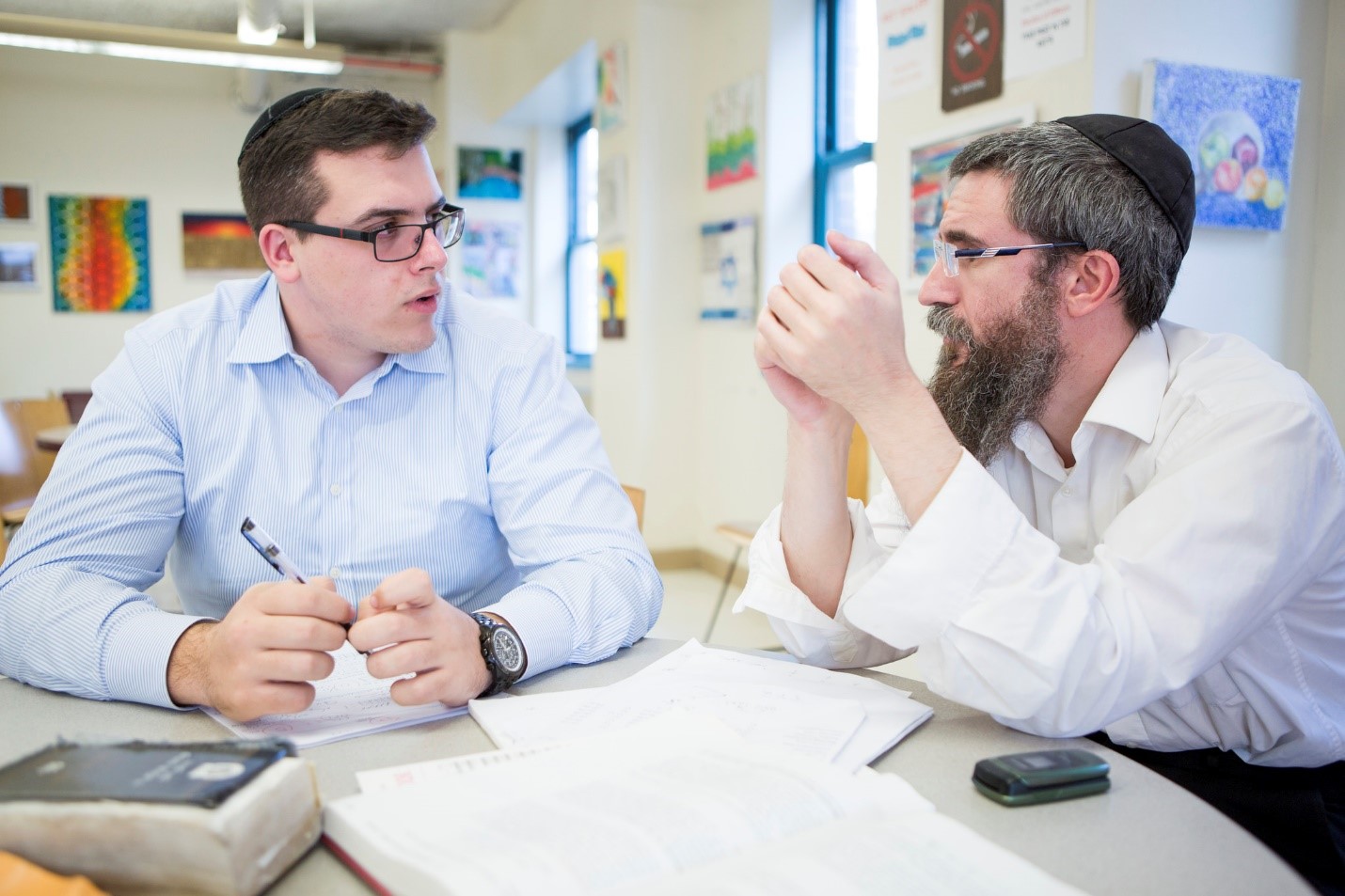 An hour prior to our interview, Joe Roth has just stepped off the plane from Atlanta. That morning, he had taken a 6 a.m. flight to meet a potential business client (a car-leasing company aiming to expand its marketing efforts to the national level), and went back to the airport to catch his returning flight immediately after the 11 a.m. meeting. He made it just in time for his 6 p.m. class at the Lander College of Arts and Sciences (LAS)-Flatbush.
This busy whirlwind of a day is typical for Roth, who serves as the managing partner of Highlight Marketing LLC, a niche marketing firm that brings in more than $100,000 annually in profit. Every day is a race to fit in meetings, business calls, presentations—and college classes. Because when this young entrepreneur isn't jetting off to meet clients, he's taking a full course load of 21 credits at LAS to earn his Bachelor in Business Administration and Marketing. We spoke to this 23-year-old businessman about his enrollment at LAS, his work experience, and what advice he'd give to other aspiring entrepreneurs.
---
Roth emigrated from Israel to New York at age seventeen. With him he brought a second-grade English reading level, a passionate determination to "make it big" in America, and a promise from his mother to pay for his education.
That first summer, he found a position as an assistant head lifeguard at a summer camp and, in the fall, enrolled at Yeshiva Gedola of Midwood, where he eventually received his Bachelor's in Talmudic Law. Looking to make productive use of his afternoons while at yeshiva, he enrolled dually in Touro's Machon L'Parnasa in 2010. He attended classes twice a week, but struggled tremendously with the workload and his secular studies background.
But the administration at Machon L'Parnasa, Roth says, "gave me a chance." Professors were generous with their time, and the administration found tutors for him in every subject so that the young student could earn his degree while getting his GED.
"I have such a love story with Machon," muses Roth. "Dean Esther Braun had constant patience throughout everything, and always made sure I had a fair chance as an ESL student."
Though Touro subsidized the tutors, Roth took odd jobs to pay for the remainder of the costs: He packed frozen food for a supplier in Brooklyn during breaks in his day and was the head lifeguard for the Boro Park Y, where he was responsible for opening up the building at 5:55 am. In his free time, he hosted Kol Hashalom, a popular talk radio show for Israeli-Americans, where he discussed Israeli news, popular human-interest stories, and advice for adapting to American life.
And then his jobs became more intriguing. He was introduced to the managing partner of a large health care firm named Care to Care, and Roth became the executive's chauffeur. Spending time with this high-profile millionaire in the car proved valuable. For two years, Roth attended events with his boss, rubbed shoulders with investors, and gained a firsthand knowledge of the health care management company. The best part about this job, though, was that Roth's supervisor understood that the teenager's priority was school, not work.
Recognizing that they had a trustworthy employee on his hands, Roth's bosses gave the young man additional responsibilities, and the teenager was promoted to assistant. And then executive assistant. And then project manager. While he was climbing up the corporate ladder, Roth was also celebrating milestones. He graduated from Machon L'Parnasa with his associate's degree and now geared himself for the next finish line—his bachelor's. He began taking classes at (LAS) in the evenings, pursuing a degree in business administration.
It was in his first semester at LAS that he began thinking of starting his own marketing company. His edge? "Instead of trying to cut the consumers' pocket, I wanted to see what would happen if I tried to cut from the source." By creating partnerships and alliances with different companies, Roth "lessens the costs of goods for these companies so that they can offer cheaper prices than their competitors while still making the same amount of money, or more than they did before. Except that with my help, they can now offer better customer service, have their marketing needs covered, and enjoy a wider, shared customer base as a bonus."
So Roth began applying what he learned from his classes at LAS to this idea. "It was direct implementation. I was working on a business model in school, and every time I learned something, I imagined ways of applying it into my new marketing company."
With this business model in hand, the former lifeguard, frozen-food packer, and assistant resigned from his old company with his supervisors' blessings and became the managing partner at Highlight Marketing instead. Having received significant funding from investors—contacts he had made while working at Care to Care—his startup costs were covered.
The company's focus is full-service; it provides customized marketing services for small businesses. For example, Highlight will offer a virtual secretary, website maintenance, graphic designers, social media marketing, and phone support all in one customized package deal. "I'm giving people a cheaper alternative to mainstream marketing companies, but we'll take care of every marketing detail," explains Roth. "If your business specializes in delicious cookies, I want you to spend all your time baking those cookies, not worrying about how to sell them. Don't worry about your customers—that's my job. I'll get the word out."
He now employs a handful of his own employees and has a line of international investors continually investing in his start-up. Nine months ago he declared an LLC. And to accommodate his ever-busy schedule, meetings, and flights, the former driver now needs his own driver!
His clients, and current projects, are many. Roth just launched several new products for a medical appliance company, including an exclusive device, a non-invasive invention that can detect imminent heart attacks. Currently, Roth is also in negotiations to open a call center in Lakewood which would serve his small-business clients and give chareidi women opportunities for income. "Why outsource to India and Turkey if we have people here at home? I want to bring it home."
"At the end of the day, the greatest part about my company is that I'm successful enough to pick and choose my clients. I want to manipulate coexistence. They're all going to grow and help each other in the future. And that's what I love about business."
In the photo essay below, check out the six tips Joe would give to other young entrepreneurs.