Eight Questions with Dr. Robert S. Bressler
Meet the Undergraduate Chair of Biology at Touro.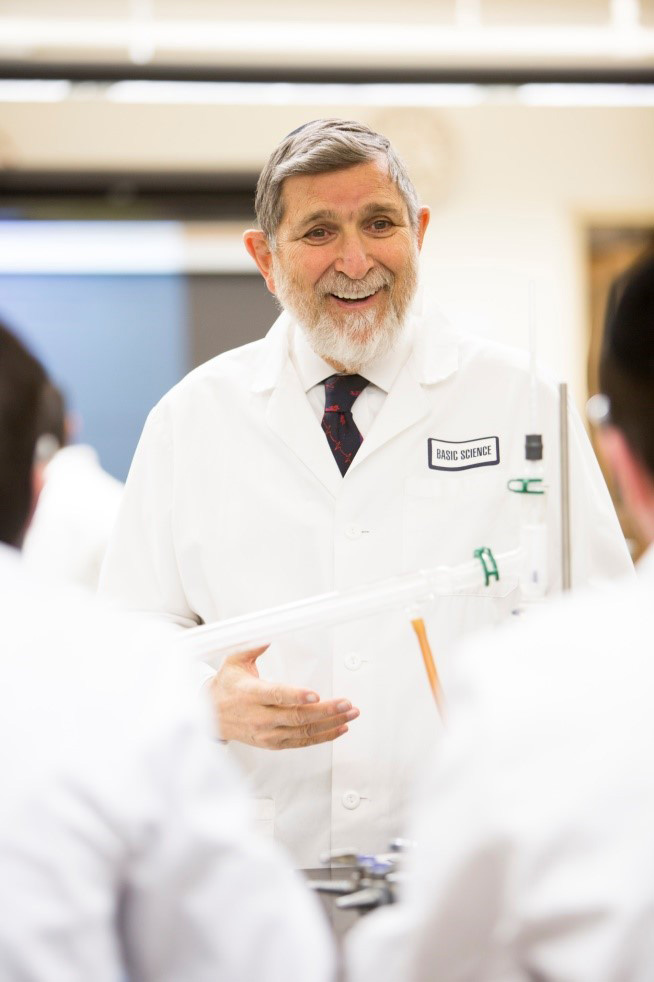 Dr. Robert S. Bressler, Undergraduate Chair of Biology Programs at Touro College, wears many hats. In addition to teaching several classes a semester as a biology and embryology professor, he's also the advisor to the Lander College of Arts and Sciences–Flatbush Pre-professional Society, Health Science Society, and the Science Journal. We sat down to speak with him about his passion for anatomy, his unique career path, and his favorite part about teaching at LAS.
When did you begin your career as a science professor?
"When I started as a student in 1957 at City College, I needed to put down a major field. Not having anything particular in mind, I put down what the guys next to me were putting down—engineering. But I knew this was only temporary, because I wasn't really fond of math. Later on, I was faced with the choice of taking either bio for science majors or bio for non-science majors. I thought to myself, I'm getting a free education here, why would I choose a watered-down course? So I took, and very much enjoyed, the bio-for-majors course, and decided to become a biology major! I remember sitting in comparative anatomy class, and the discussion turned to what we were going to do when we grew up. Someone said, Why not anatomy? I heard there's a demand. My reply: cut up bodies? What are you, crazy?...little knowing that after 5 years of being on the faculty of City College, I'd wind up on the faculty of NYU Medical School, teaching anatomy as part of a job I created for myself."
How did you manage to create a job for yourself?!
"While I was doing my graduate work at NYU, I was also teaching at City College. I was taking an Electron Microscopy course at NYU with the Chairman of Anatomy, Dr. Michael Ross—a class that required a large time commitment for the lab portions—but it was very difficult running between my job at City College and my NYU class every time we needed to do a lab procedure. So I asked Dr. Ross to give me a job at NYU in any capacity- I'll do anything in order to be able to learn electron microscopy, I said. He gave me an appointment as a teaching fellow in the Anatomy department, which also provided tuition remission in my grad work and led to my getting my PhD at the medical school, too. When I tell this story to some of my students, they say, "That means I'm gonna have to knock on doors!" I tell them, Yes, you can't be passive. If I could get a job at NYU medical school with only a BA, they can get an internship!"
Sounds like great motivation.
"I hope so. I once met with Dr. Earnest Napolitano, the president of New York Chiropractic College. On his desk was a sign: "If you think you can't do this, you're right." I pass this on to my students here to show them the attitude they have to have to get interviews and volunteer positions."
Where do your research interests lie?
"Mainly, endocrine control of the development of the reproductive system. I've been invited to present my research in several national and international conferences, and I've continued this research all throughout my work at NYU School of Medicine, Mount Sinai School of Medicine, and Elmhurst Hospital."
For a certain time in your life, you played a role in your wife's business. Can you tell us more about that?
"My wife started a kosher weight-control business called Start Fresh. I came home one night from work at Mount Sinai and she said, You're in charge of the men's division. I said, There is no men's division. And she said, There is now!
At Elmhurst Hospital—which was staffed by Mount Sinai— I had three jobs in one in the Pathology Department, each of which could have been a full-time position. As the Director of the Ultrastructural Diagnostics Laboratory, I was responsible for patient service, research service to the staff, and was a member of a multidisciplinary research team working on hepatitis. I couldn't do all of that as well as I thought I should, in addition to playing a role in the business, so I resigned from Mount Sinai, and for the next 16 years I led weekly men's weight loss and aerobics exercise classes throughout the tristate area."
Did you have experience in the fitness industry?
"As a biology professor, I certainly knew what you had to do to lose weight, and as an anatomist I devised exercises designed to utilize the major muscle groups. And I learned on the job. I also learned, though, that doctors in those days didn't know a lot about nutrition. Nutrition wasn't covered so comprehensively in medical schools."
So how did you get back into academia?
"I never really left academia. Right after I resigned from Mount Sinai, the Dean of New York College of Podiatric Medicine called me. "We're having trouble with our anatomy program, can you come straighten it out?" he asked. Although I had been challenged to master Pathology at Elmhurst, I could teach anatomy—to borrow from the quote—"standing on one leg," so I became the Chairman of the Anatomy Department and subsequently the Dean of Basic Sciences. Then, Touro offered me a job that was walking-distance from my home…and the rest is history!"
What's the most valuable lesson you've learned from all your years as a professor?
"During my first semester of teaching (at City College, 1962), I had a non-science bio course with a 4-hour lab that required a 20-min introduction. I gave out fantastic info to these students, I was on a roll, so high on what I was saying. After I got through the material, a student came up to me and said, "Professor Bressler, I understood that fine, until you explained it." And like a bolt of lightning from the sky, the word "simplification" hit me. This was the best lesson in teaching I've ever received in my life."
You've taught at many different schools throughout your 50-plus- years of teaching—at City College NY, N.Y.U. School of Medicine, Mount Sinai School of Medicine, New York College of Podiatric Medicine, Downstate Medical School, and New York Medical College, among others. What do you find unique about Touro?
"Generally, I find the students here to be very appreciative of what the faculty and I can do for them. My wife frequently asks me to retire, but I prefer to hang out with 20-year-olds than with people complaining of Medicare and surgeries and copays. Some students here thank me for helping them, not realizing that they have helped me much more than I can do for them. They keep me from acting my age."