How I Built My Own Media Company
From Podcasts to Social Media to Digital Marketing, Touro Alum Eli Langer Helps People and Companies Succeed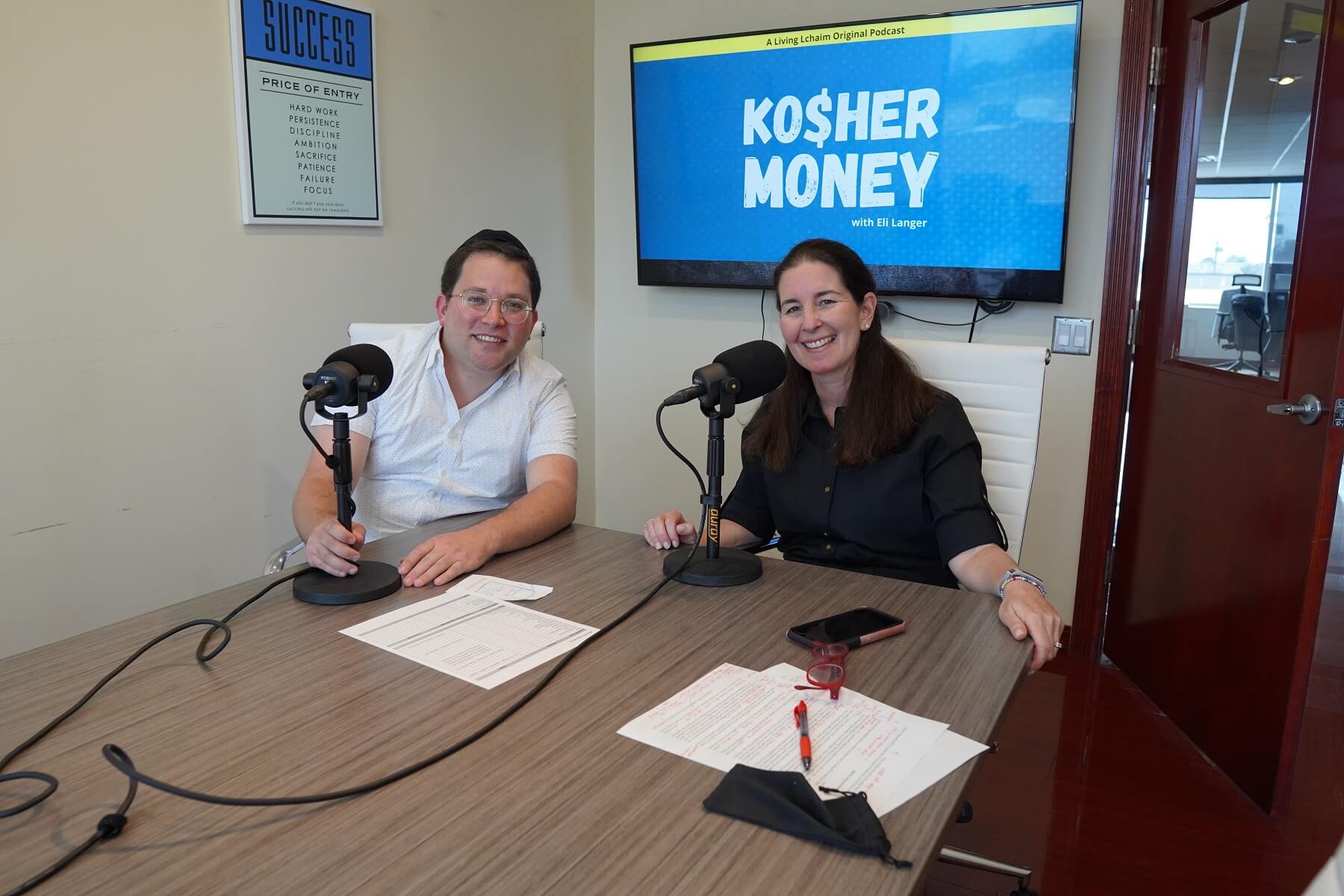 Touro alum Eli Langer and his cohost on the set of their podcast, Kosher Money.
From a sports blog to CNBC to starting his own media company, Lander College of Arts & Sciences Alumni Eli Langer shares how he turned his love of all things digital into a fulfilling career--and why you should always pursue your passion.
How did you decide on a career in marketing? Did it evolve or was it a field you always knew you wanted to enter?
Marketing is all about people. It encompasses the different ways we communicate with each other and how we can provide value for them. I love people. I've always been a people-person, and I really enjoy interacting with different types of people in all sorts of situations. That is exactly why I gravitated toward social media when it launched in the late 2000s. The world became so much smaller when I had the ability to tweet at my sports heroes and build new connections with media personalities.
When word got out that I had a sports blog and an active Twitter presence, companies started reaching out to me to assist them with their marketing needs. It was around that time that I entered Touro's campus to select my profession/career choice, and marketing felt like a natural fit for me. Though I majored in finance due to its potentially lucrative field, my exposure to the marketing arena ended up steering me away from finance and toward the advertising world.
Today I manage Harvesting Media, which is a marketing firm I co-founded in 2017 to help independent supermarkets reach more people in a digital world. From there we transitioned into assisting food brands, restaurants, nonprofits, and medical businesses. We work on email campaigns, social media management with a focus on paid ads, online review management, text message marketing and more, and I love it because it's a people-to-people business. In this field, you can have a direct impact on the quality of an individual's life.
You started out running social media for CNBC and then running your own digital marketing company. How did you transition from working for a large company to working for yourself?
In 2009, I met CNBC sports reporter Darren Rovell on Twitter, and he was impressed with my work ethic and ability to help him market himself and his brand across social media; this led to a full-time gig at the cable news channel. While working in CNBC's newsroom for nearly four years was an experience that many Orthodox Jews don't get, I left for a few reasons – including the need to allow myself to be more creative in generating marketing campaigns for small businesses in the communities where I've lived, and to focus on my growing family.
Recently, you've started the Kosher Money podcast. Why do you think podcasts are proliferating today? What does it take to be successful as a podcaster?
Smartphones are in the hands of practically every adult across the world. As a result of the Covid-19 pandemic, more and more people were looking for mediums to stay informed or be distracted, and audio was a natural solution for that. People who have long commutes or work out at the gym want some level of stimulation, and podcasts fit the mold very well. A recent study from eMarketer revealed that the top ten podcast advertisers spent nearly $300 million combined on podcast ads in 2021, more than double the $145 million spent in 2020 – so that's where the marketing spends are going.
Many people have approached my brother and me about creating their own podcasts. The tip we give to people interested in creating a podcast is, "Just begin!" If you have an idea, grab a microphone or mobile device to record and publish an episode. It doesn't have to be perfect. Don't get lost in the preproduction. You'll get to perfection, but it need not be there on day one. Initially, it was a struggle to attract sponsors to our nascent podcast, though over time and after continuing to pump out episode after episode after episode, we continued to grow the numbers each week, thereby generating interest from sponsors. Success comes from the one above when you are persistent.
What's the premise for Kosher Money and who's the intended audience? Have you found there's interest beyond the Jewish community? Why do you think that is?
While one of the reasons I left CNBC was for creative purposes, ultimately in order to pay the bills of a growing Jewish family in New York, I felt the need to transition back to working in a capacity to help small businesses in the digital marketing space. The idea to create Kosher Money was specifically fueled by my brother, Yaakov, creator of the Living L'chaim network, which has a host of shows to enhance the lives of Orthodox Jews. Shows include Kosher Money, which focuses on managing personal finances; That's An Issue, which discusses mental health in our communities; and The Spirit Of The Song, which gives listeners an inside look at the meanings behind the most popular songs in Jewish music. Kosher Money is now in Season 3, and the episodes have millions of streams on YouTube and across leading podcast networks, which is really amazing to see.
We've generated hundreds of thousands of views from non-Jews as well from all over the world: South Africa, Chile, Trinidad. I think finances cut across every religion and culture, and the words that our guests share relate to everyone, which is pretty phenomenal. We bring on financial experts and Rabbis to talk about the challenges and opportunities that communities are facing, though in more recent episodes, we're careful to use less Hebrew words in hopes that the material is understandable and relatable to all who are listening.
What advice do you have for Touro undergrads interested in a marketing career?
When you're starting out, don't chase salary, but opportunity. Interning at a firm where you're going to learn from the best of the best is a whole lot more lucrative in the long term than acquiring the highest compensation you can get on day one. There will be plenty of time to make top dollar, so use your early years to learn and sponge as much as you can on the job and off the job. YouTube is an excellent resource to learn practically anything you want to, so take advantage of it. Additionally, don't discount the value of connections and relationships. The old saying, "It's not what you know but who you know" rings true time and time again.
How did your Touro education help propel your career?
Touro is an extremely welcoming school, from its faculty to its students - some of which I keep up with to this day. I found Touro's English writing curriculums to be extremely helpful in propelling my career. I've gotten compliments on my ability to write and convey messaging, which I credit to my Touro professors, particularly Professor Lydia Kraus. In today's day, writing is the primary form of expressing oneself, and if you could do it well, it can sometimes be the difference between closing a deal and going bankrupt.