Lander College of Art & Sciences Alumni Spotlight: Chaya Rockford
A Touro Alum Shares How She Started Her Own Successful Business Designing Clothes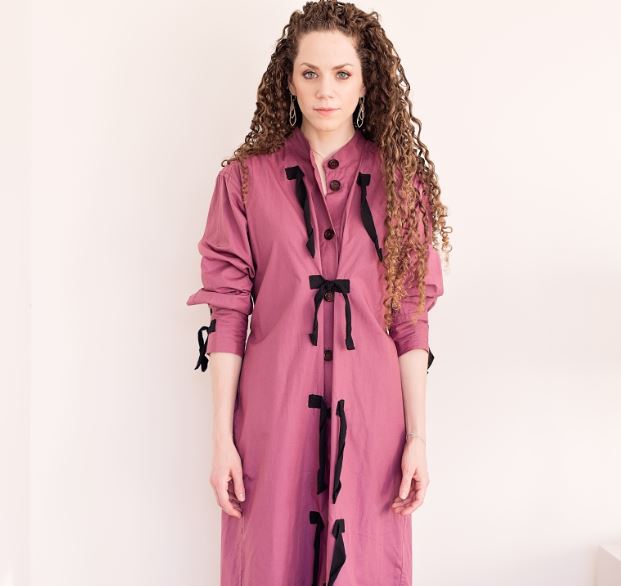 We spoke with Rockford about how she navigated through the challenges related to starting her own business, Project 6, what a day in her life looks like, and the inspiration behind her clothing line specializing in unique shapes, innovative construction, and movement.
How did Project 6 get started? Did you create a business plan or find partners?
During my time at Touro, I worked in elementary school administration. I started as an assistant and worked my way up to administrator. After four years in that role, I started feeling like I wanted to do more. I knew I wanted to run my own business, but I worried that I didn't have what it takes. At the same time, my older sister had just enrolled her youngest child in preschool and was ready to focus on her fashion dreams. She knew I had the business mind and education, and she asked me to join her. I took the leap and Project 6 was launched, named so since my sister had five children!
We still laugh about our first meeting when I was trying to guide her through a business plan. I also spent hour's online researching pricing strategies and business strategies and assessing risks.
Fortunately, my sister had a successful hair accessory business that she ran from home since 2009, so we didn't need to borrow capital. Later, when my sister stepped down and the business became mine, I was able to use my savings to invest in the business. I'm so grateful to my parents who instilled in me the importance of saving!
What is a typical day like for you?
In late 2018, my sister decided to pass on the business to me, as she wanted to focus more on her family. So now, my days look different, as my job includes things that it hadn't before, such as more of the design elements and communicating with our factories. (In the process of hiring, know any fashion designers?)
I believe in morning routines. For me, having a morning routine, makes my day go so much smoother! I start my work day using Brendon Burchard's High Performance Planner. I love it because it helps keep me organized on paper, so I know I'm not forgetting something important.
I start with checking in with our factories, to make sure that we are on track. I answer customer emails, both retail and wholesale! Our wholesale customers also have my phone number, so I'm usually chatting with them a few times during the day. Actually, it's often also at night, since they're business owners, too!
I also review reports so I can better understand where we are holding, what is working, what's not working, and where I need to put my efforts.
It's 2019 and social media is so important. So, I try to "Instastory" on @project6ny as much as I can.
At the end of each day, I go back to my planner to review my day and make notes for the next day.
What inspires your designs?
We believe inspiration comes from keeping your eyes open to the world around you. Constantly appreciating G-d's beauty all around us. Inspiration and ideas are floating everywhere, you just have to be open to it!
For example, last season, I was walking in a smelly alley and there was a huge mess of rusty metal pipes. Bam! A collection (and photoshoot) was formed in my head! I was inspired by the metallic pipes and created several styles of headbands featuring metallic ropes. For the photoshoot, we built different structures out of PVC pipes and spray painted them in metallic colors as the backdrop for the shoot.
Inspiration is about keeping your eyes open, not pressuring yourself, and allowing ideas to come to you and trusting that they will come.
How do you manage to juggle personal life with running your own business?
This is a great question, and I'm not going to say I have all the answers. It's a struggle because at the end of the day, I'm running a small business with a lot of moving parts.
Before I sit down to work from home after hours, I ask myself: "does this need to happen now? Can it be delegated? Can it wait until tomorrow?" The tasks I often do from home are more design- related and the things that are relaxing and fun for me. That way, it doesn't feel like I'm working!
We also moved the business to Florida where my parents and 5 of my siblings live. Spending time with my family and nieces and nephews is so refreshing to me.
What advice do you have for our students who want to create their own fashion brand?
I have three pieces of advice and they really apply to anyone interested in starting a business:
Experience, experience, experience! Get as much experience as possible working for someone else first! Before investing your own money and time into creating a brand, if you can first learn the ropes, the flow, and the environment via an internship or job, you'll be so much more equipped to succeed!
Start saving money now! This is for every single person on the planet, but especially for entrepreneurs. If you have some savings to invest in yourself and some to live off, then you won't have to borrow from others or worry about putting food on the table which puts an extra pressure that you just don't need when starting a business. If you feel like you don't have enough money to be putting some towards savings, I encourage you to read David Bach's books, specifically his new one called The Latte Factor.
Aspiring fashion designers often don't realize that having a fashion brand isn't just about creating 24/7. It ends up being 75% business, perhaps more. So, I would encourage you to make sure you really understand what is going on in your accounting and business classes. Knowledge is power!