LAS Alum Speaks at Conference in Israel On Confronting Violence and Abuse
Martin Friedlander, Esq. was invited to present to professionals, rabbis, and educators about combating violence and sexual abuse in the Orthodox community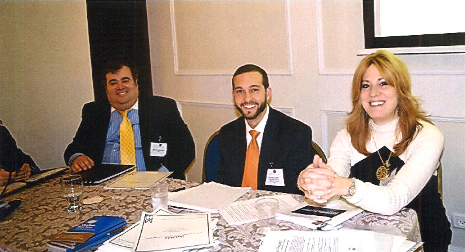 Lander College of Arts and Sciences (LAS) summa-cum-laude graduate Martin E. Friedlander, Esq., a prominent attorney who specializes in Family and Matrimonial Law, recently lectured at "The Jewish Community Confronts Violence and Abuse" conference at the Ramada Hotel in Jerusalem in December 2014.
The three-day international conference was headed by Debbie Gross, director of Israeli nonprofit organization Tahel—The Crisis Center for Religious Women and Children. This first-ever, landmark event brought together mental health professionals, rabbis (including the Chief Rabbis of Israel and Jerusalem), educators, lawyers, judges, community leaders, and laymen for a series of informative lectures, workshops and networks to combat domestic violence and abuse in the Jewish community. The 600+ attendees were presented with a variety of lectures on topics, such as the importance of victims speaking out against abusers (emphasizing that the issue of "lashon hara" never applies in these mesirat nefesh situations), the need to educate students on the safety, the requirement to train rabbis in recognizing sexual abuse, and the neuroscience of pedophilia.
Mr. Friedlander was invited to facilitate a group panel on "Conscience: A New Frontier in the Treatment of Sexual Abusers." He also presented a lecture on suicide in a larger discussion of "Domestic Violence – Family Problem or Societal Responsibility?"
In his discussions, the attorney drew upon his professional work representing victims of abuse and violence. One example of his involvement was a prominent case in which he represented a divorced Hasidic client whose husband was a known pedophile in the Jewish community; after the husband was granted partial custody of the children, the woman committed suicide. Mr. Friedlander explored the interface between the criminal justice system and the Orthodox community, and also discussed societal failures in preventing drastic occurrences like the suicide cases he was involved in from happening.
"An important issue the conference addressed was the infrequency in victims reporting abusers and receiving Orders of Protection," said Mr. Friedlander. "This should be a must. As a community, we're not where we should be; but we're making progress."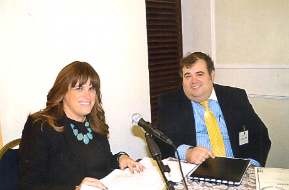 Mr. Friedlander, Esq. with attorney Rachel Marks in a presentation on "Suicide: Orders of Protection, Society Failures, Cause and Effect" as part of a larger panel on "Domestic Violence: Family Problem or Societal Responsibility?"
Friedlander graduated from LAS in 1989 (his son is currently a freshman at LAS-Flatbush, majoring in political science) and continued on to Brooklyn Law School. While attending, he received his Advanced Talmudic Degree and semicha from Yeshiva Torah Vodaath Touro. In his work, he is faced with the interaction between secular law and halacha, and regularly consults practitioners and Batei Dinim (rabbinical courts) on this interaction. He writes and lectures extensively on the topic of matrimonial law, and last year published an article in the Jewish Press entitled "Shame on You, Shame on Me " about the need for the Jewish community to have a zero-tolerance policy regarding sexual abuse (when the allegations are true, that is—Friedlander also writes about the major harm incurred when supposed "victims" make false allegations).
At the conclusion of the conference, Friedlander reported that he and an Israeli attorney are discussing plans to create an international coalition of lawyers who deal with abuse and agunah issues in cities with large Orthodox communities.