"More Important Than Having Potential is Acting Upon It"
39 Students from Touro Undergraduate Schools Join Psi Chi Honor Society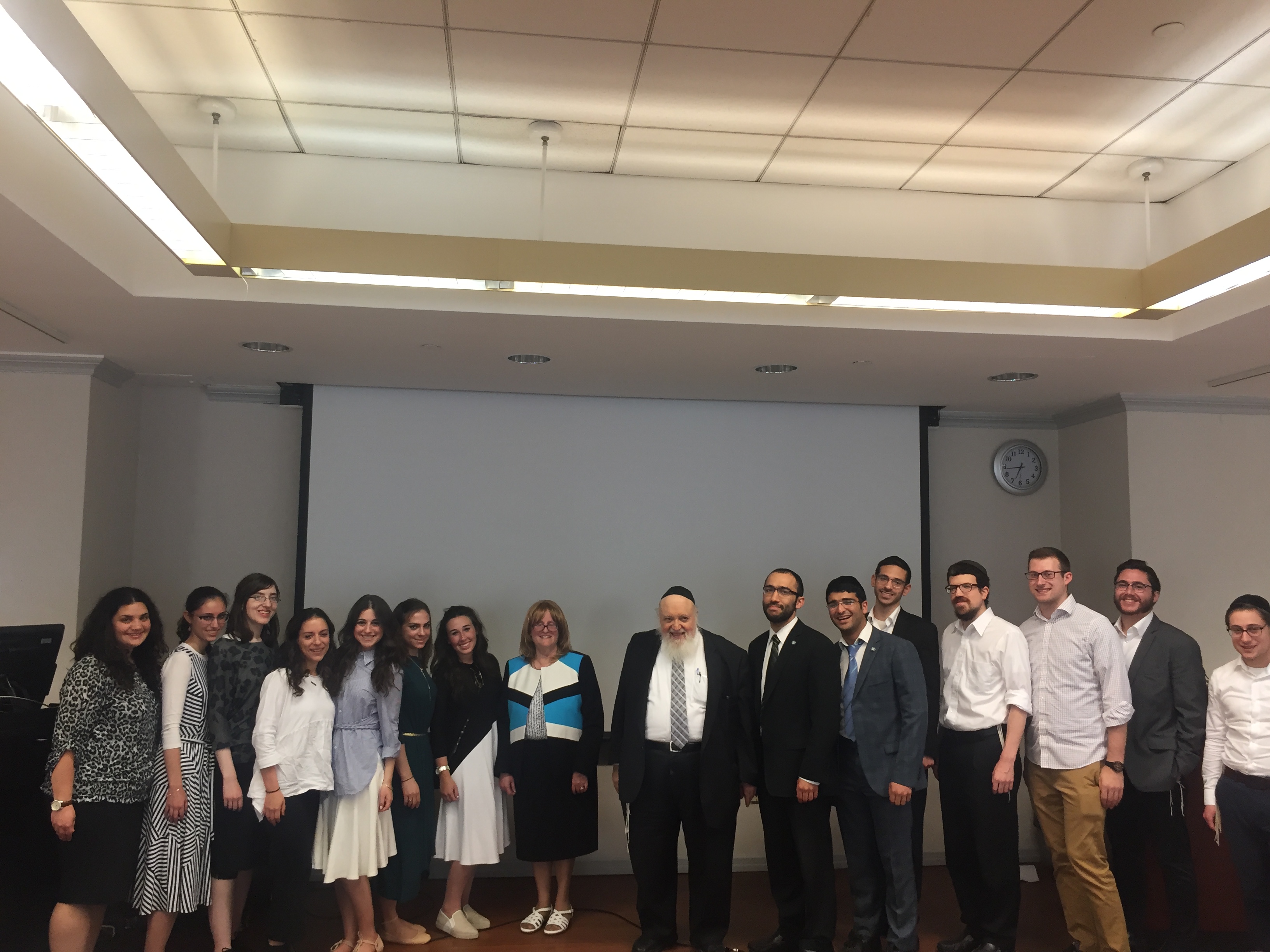 Thirty-nine students from the Lander College of Arts and Sciences in Flatbush (both the men's and women's division), Lander College for Men in Queens, Lander College for Women in Manhattan, and the School for Lifelong Education in Borough Park were welcomed into the prestigious Psi Chi Honor Society on June 12.
Psi Chi, the International Honor Society in Psychology, honors and recognizes undergraduate students who make the study of psychology one of their major interests and who achieve academic excellence in the field. Touro College established its chapter of Psi Chi in November 2011. The honors society was created in 1929.
The top 30 percent of psychology students by GPA are inducted into the honor society and the ceremony, which took place in the main reading room at LAS in Flatbush, was well-attended by the newest honor society members. Dr. Robert Goldschmidt, Vice President and Executive Dean, delivered introductory remarks as he counseled students to continue their academic excellence.
"More important than having potential is acting upon it," he told the assembled students.
Chair of the LAS psychology department Dr. Melech Press emphasized that this ceremony "marks considerable achievement," after which Dr. Barbara Rumain, associate professor at LAS and faculty advisor to Touro's Psi Chi chapter, began the formal Psi Chi proceedings.
"Scholarship means more than the attainment of an honorable record, it demands that you not be content with merely adequate performance of the task required of you, but that you strive for real mastery of the subjecttowhich you are devoting your mind," said Dr. Rumain.
Afterwards students collectively accepted the conditions of membership and were called upon individually to sign their names on documentation.
LAS alum Rachel Rosen was one student who will be putting her psychology education to good use as she pursues a Psy. D degree at LIU next year.
"I was intrigued by how the mind affects how we behave," she explained about her interest. "Every class in psychology was so intense it made me realize how much I enjoy the science behind it."
While many of the students will not be pursuing a career in psychology, all the students spoke of the beneficial effects learning about psychology has had for them.
Eliya Bernstein, a student at LCM, will be pursuing rabbinic ordination and becoming a teacher. He said psychology was necessary in everyday life.
"If you're dealing with people, you need to understand them," he said.
LAS student Gila Levitin plans to put what she learned in her psychology classes towards her future career as an occupational therapist.
"I've always been interested in how the mind works," she said. "As an occupational therapist, a lot of what we do with patients is dependent on their individual mind-set."
Congratulations to all the honorees:
Avraham Jacob
Jonathan Zomick
Yosef Koppel
Eliya Bernstein
Nechoma Lieberman
Gila Levitin
Chaim Lebto
Gavriel Gulamov
Hanna Mandelbaum
Chava Stern
Chaya Waxler
Esther Mayteles
Toby Diamond
Shira Vann
Aryeh Schwartz
Chana Lipsius
Joshua Block
Menachem Kleinman
Bracha Goldberger
Eva Hendler
Rochel Schoenberg
Atara Gruenbaum
Elazar Laks
Leah Soroka
Aharon Twersky
Rachel Rosen
Malky Zyman
Bracha Berman
Jennifer Snyder
Batsheva Pollak
Judith Silber
Brocha Frankel
Yosef Berman
Yitzchak Shalev
Esther Walkenfeld
Joseph Weber
Atara Magder
Esther Schachter
Devora Panish