Practicing Medicine Half a World Away
Touro Undergrads Experience Cultural Differences in Healthcare on Eye-Opening Trip to Thailand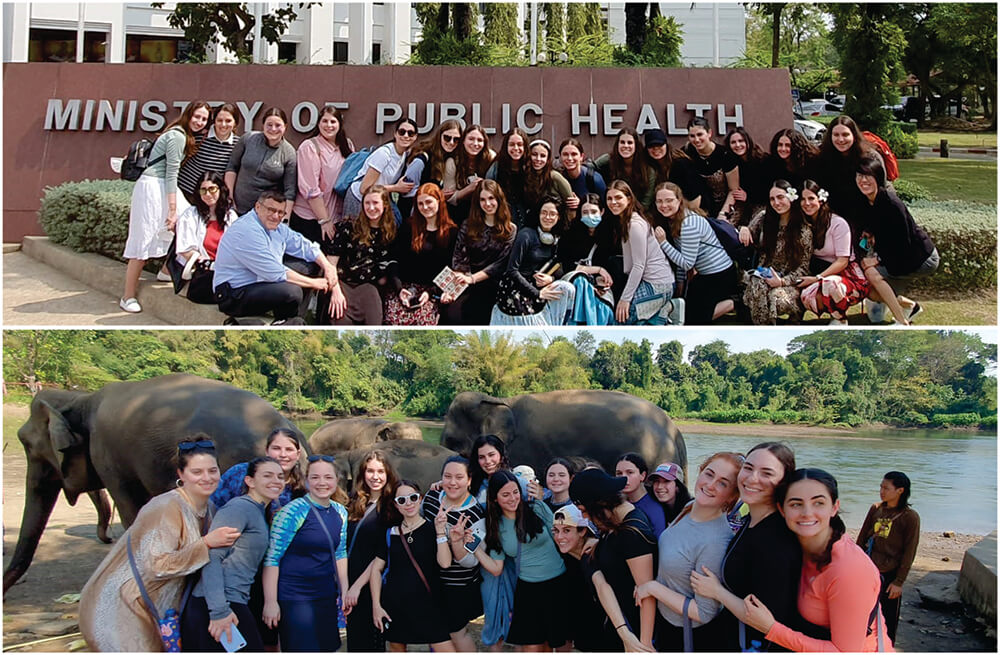 Touro students in front of the Bangkok Ministry of Public Health (top) and at the Elephant Reserve (bottom)
How should pre-med students from the United States react to a hospital in Thailand that hires its all-female nursing staff based on a beauty contest? And should they have ethical concerns about an in-vitro fertilization clinic in Bangkok that refused to treat infertile couples of different religions?
Twenty-six students from Touro's Lander College for Women (LCW) and Lander College of Arts & Sciences (LAS) debated these and other questions during a midwinter break trip to Bangkok, as part of a two-week course in bioethics. The three-credit course, Biomedical Cross-cultural Educational Program (BioCEP) provided the students with a first-hand look at a wide variety of hospitals and institutions to learn how culture can impact ethical decisions in medicine, dentistry and biology.
Accompanied by Dr. John Loike, a professor of biology and bioethics and the founder of BioCEP, the students were introduced to a number of compelling ethical questions, including when life begins; the nature and limits of informed consent; the treatment of so-called "orphan" diseases; and the use of deception in research. Having the students confront these issues in person, rather than in theory, was one of Dr. Loike's many objectives for the course.
"Part of the experience is for the students to appreciate and respect the diverse cultural values in medicine and science," he said. "Gaining an appreciation for this international diversity is critical for pre-med, pre-dent and pre-health students, and I wanted to instill in the students an appreciation and respect for the diverse cultural values people have in medicine and science."
Learning new perspectives
Over the course of the two weeks, the group visited multiple hospitals and met with healthcare staff to gain a better understanding of people with whom they shared many professional interests, but have very different backgrounds, and who face challenges the American students hadn't encountered previously. Among those were the Yanhee Hospital for Health and Beauty, to witness some of the surgical innovations to enhance patients' appearance and beauty, and the Hospital for Tropical Medicine, to learn about the ethical challenges in treating Dengue fever and malaria.
Naomi May, a senior at LCW, said she was fascinated by a lecture they heard at the King Chulalongkorn Memorial Hospital about cord blood, which is the blood left over in the placenta that contains hematopoietic stem cells.
"These stem cells are so important, as they can be used to treat many serious diseases, even cancer," said May, who hopes to be a nurse in a delivery and labor unit.
Students also had the opportunity to hear from Thailand's Ministry of Public Health about the ethical challenges in developing universal healthcare and about the difficulties in establishing clinics in rural areas of Thailand.
"My thoughts before the trip were that patient autonomy was the most important tenet of medical ethics, and any decision made AMA [Against Medical Advice] must be due to their personal beliefs," said Shira Davis, a psychology major who is a senior at Touro's Lander College for Women. "Now I understand the pervasiveness of misinformation and lack of medical care that can lead to patients making such decisions."
Collaboration across cultures
Dr. Loike founded BioCEP to enable students to discuss, assess and reflect on the ethical questions they encountered in Thailand. The program was facilitated in conjunction with the Knowledge Exchange Institute, an organization that allows students abroad to "gain practical experience and enhance their understanding of the world through cultural and social immersion." The Institute provided the group with a Thai representative, Marisa Chung Vinitketkumnuan, a former Buddhist monk, who joined the students on field trips and taught them about Thai culture.
Students stayed at hotels next to the five-story Chabad-Lubavitch of Bangkok Center, which provided meals for their two Shabbatot in Thailand and where they davened, joined by more than 500 Israeli tourists. Dr. Loike lectured the students each night on Chabad's sky roof lounge overlooking the Bangkok landscape and they also heard meaningful shiurim about halachic challenges of living in Thailand from the Director of the Chabad House, Rabbi and Rebetzin Wilhelm.
Although the educational aspects of the program is its primary purpose, they still managed to squeeze a little fun into their time abroad. The highlights included the beautiful underground aquarium that housed a salt water lake containing sharks and sting rays, and an elephant reserve where they bathed elephants by hand. They also visited a Red Cross snake farm, where the head veterinarian showed them how king cobras are milked to develop anti-venom serum.
Before coming home, they met with 30 undergraduate students at Mahidol University to learn about innovative online science education, and to build cultural bridges with some of their Thai counterparts.
"Never before had I felt the global connection of physicians and researchers as strongly as I did in Thailand," said sophomore Chana Birnbaum. "Spending time in Bangkok broadened my understanding of both Thai culture and healthcare. Moreover, it demonstrated how insights and breakthroughs are shared across the world, for the sake of humanity."