Ruvi Amiash, LAS '17, Releases Hit Single
Finance major Ruvi Amiash, who hails from Switzerland, has become the latest Jewish music sensation. Touro interviewed him about his background in music, his gradual rise to fame, and his ambitious career plans.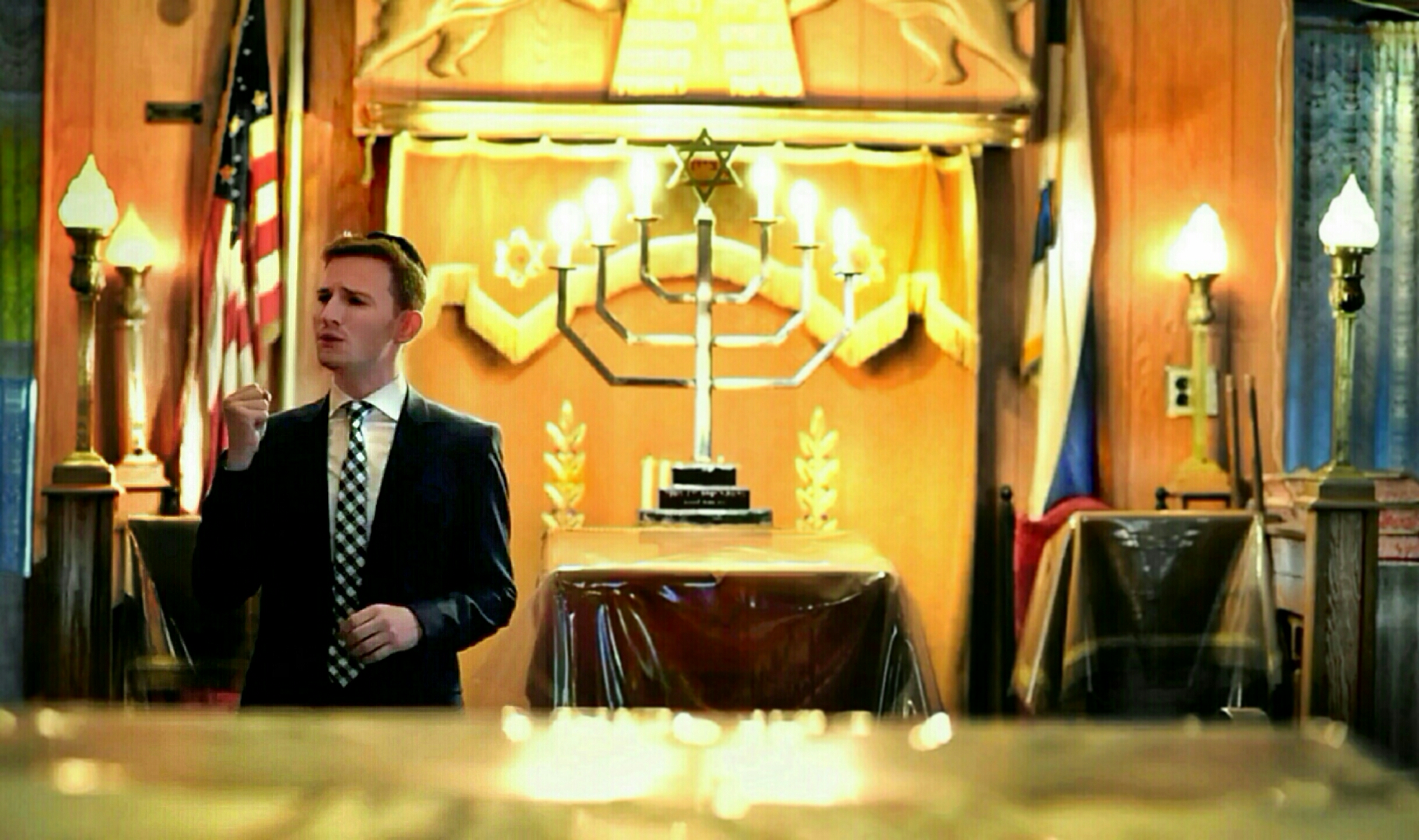 Ruvi Amiash, majoring in finance and economics at Lander College of Arts and Sciences in Flatbush, always grew up singing. This past year, though, marked a particular milestone for him with the release of his hit debut single "Veseoreiv."
Born in Zurich, Switzerland to a musical family—(his father used to play guitar, and his mother "has a beautiful voice"), the 26-year-old found his voice later on in life. "As a child I had a horrible voice," laughs Ruvi. "I was the black swan of the family; my sisters all had amazing voices. But I joined a choir at one point, somehow getting a solo, and was so happy about it that I never stopped singing that solo–to this day, my family still makes fun of me for it!"
Ruvi kept singing, and improving his voice, by watching other singers—most notably, Shloime Daskal and Cantor Yitzchak Meir Helfgot. Eventually his mother pushed him to learn an instrument. "She told me, 'Ruvi, if you're going to sing, you may as well do it properly and learn the notes.'" First learning the flute, he then picked up piano and keyboard, and eventually began playing—and simultaneously singing—for bar mitzvahs, sheva brachos, and house parties.
Like most Swiss bachurim, Ruvi attended high school overseas, at Or Hatalmud, a yeshiva on the border of France and Switzerland. He then learned for two years at Yeshivat Share Toire, in Manchester, England, before moving on to Israel's Mirrer Yeshiva, continuing to sing throughout. His first big duet was with none other than London-based Shloime Gertner—"a huge moment for me," remembers Ruvi.
At the Mir, Ruvi gained heightened popularity. He led staircase kumsitzs ("the Beis Yoshaye building staircase has amazing acoustics—we did four, five harmonies; the building was shaking; people even came in from the streets to listen") and began singing at his many friends' weddings, where he found himself side-by-side with contemporary stars like Ohad, Amiran and Arik Dvir, Shloime Daskal, Leibi Lipsker, Ami Cohen and Simcha Leiner. "Once, in Israel, I went to Simcha Leiner for a Friday night meal, before he became famous, and we sang for hours…I have a pretty wide range and able to reach high octaves, so it was like a chicken tie between him and me, who could get higher," he laughs. At the Mir, even the Rosh Yeshiva's family -- the Finkels -- were fans.
At 25, Ruvi decided to leave the Mir in order to go back to school.
"People ask me why I chose to go to college. And the truth is, I could just have taken my BTL and gone straight to law school," he admits. "But at the end of day, I knew I was still lacking in certain areas. I needed a real education."
Thus, after twelve years of studying in yeshiva, Ruvi returned to Switzerland, where he began studying for his GED. After passing the test and receiving his student visa, he applied to Touro's Lander College of Arts & Sciences, where he was accepted on a Dean's Scholarship.
The next thing he knew, he was disembarking the plane in JFK, just in time for the spring semester. He spends the mornings in a local Brooklyn yeshiva, to keep up with his learning, and the afternoons at Touro's Avenue J campus. "It was an adjustment, for sure—very different than the European style of schooling," says Ruvi, "but now that I'm used to it, I enjoy it."
A week after he began LAS, he met Chananya Begun, founder of New Sound Productions (and son of Miami Boys Choir producer Yerachmiel Begun) at a Motzai Shabbos kumsitz in Lakewood. The young Begun asked Ruvi to come to the studio a week later "to have a listen." Impressed, Mr. Begun offered Ruvi a contract, which he signed, and the duo began planning his debut single.
Album cover of Ruvi's debut single
Ruvi began working with famed vocal therapist Dr. Anat Keidar, who was "very, very tough," he remembers. "She created Matisyahu, and lehavdil, Christina Aguilera. The first time I walked out, I was shattered to pieces. She had said, 'you have amazing potential, and your octaves are enormous, but if you want to work with me I'm going to have to erase any traces of anything you've ever learned and reconstruct you from the beginning.' I was breathing the wrong way, singing the wrong way." It was only after almost a full year of working with Dr. Keidar that Ruvi finally began production on "Veseoreiv."
The final song was released on April 19, 2016 on YouTube (and subsequently, on iTunes), after which it began garnering thousands of hits. "My mother's friend called her up, in Switzerland, and said – 'I think I just heard your son on Israeli radio!' It was an incredible feeling." After the song began gaining traction, a mutual friend sent Ruvi's song to a famous (secular) producer. "He heard my clips, and said – If this guy wants, I can turn him into the next Justin Bieber. You'll make millions off one album.' Obviously it wasn't a question, but getting confirmation from a huge studio boss like that—that was definitely big," Ruvi smiles. So far, the song has garnered over 36,000 views—and counting.
Ruvi, though, is still humble about his music talents ("I'm a small fish in a big pond," he admits), and is taking his college career as seriously as he's taking his music career. "The stock market, the banking world, always fascinated me," says Ruvi, who's majoring in finance/economics.
The ambitious undergraduate already has impressive work experience under his belt: In the summer of 2014, he returned to Zurich for bein hazmanim and landed a competitive banking position at the Credit Suisse headquarters—even before he had earned his GED. Hired solely on talent alone, Ruvi worked as a financial consultant for two months, becoming the group leader in two weeks and the team leader in four. He was promptly offered a full-time job afterwards (which he politely rejected, to return to yeshiva). "I knew how the banking system worked before I went to the system," Ruvi explains. "I had researched all the terms, all the jargon, the theory. Now, in Touro, I'm learning the formulas, the techniques, calculations—everything I still don't know."
Meanwhile, the banking enthusiast is also entranced by law, and is still deciding between business school or law school. Armed with twelve years of Talmudic study, Ruvi has mastery in "sevaras, quick solutions, out-of-the-box answers"—all pre-requisite tools in the average law student's arsenal— and would love to study corporate law at Harvard.
But ultimately, whether he does pursue it as a business or simply as a hobby, Ruvi says he'll always keep singing. "Music is a very emotional thing for me. It heals the neshama, they say. The nicest, and most important part about it, is that it originates from your heart. Whether it's a random person singing in the street, or under the shower, or someone humming while they're in the kitchen – if it derives from the heart, so it's all beautiful. It's astonishing- how when you hear a certain chord, a note, a melody and right away you connect to it and transcend to a different and loftier world."
Listen to Ruvi's hit single here.