Students Excited for New Year at LAS-Flatbush Women's Division
"I Wanted an In-Depth Learning Experience."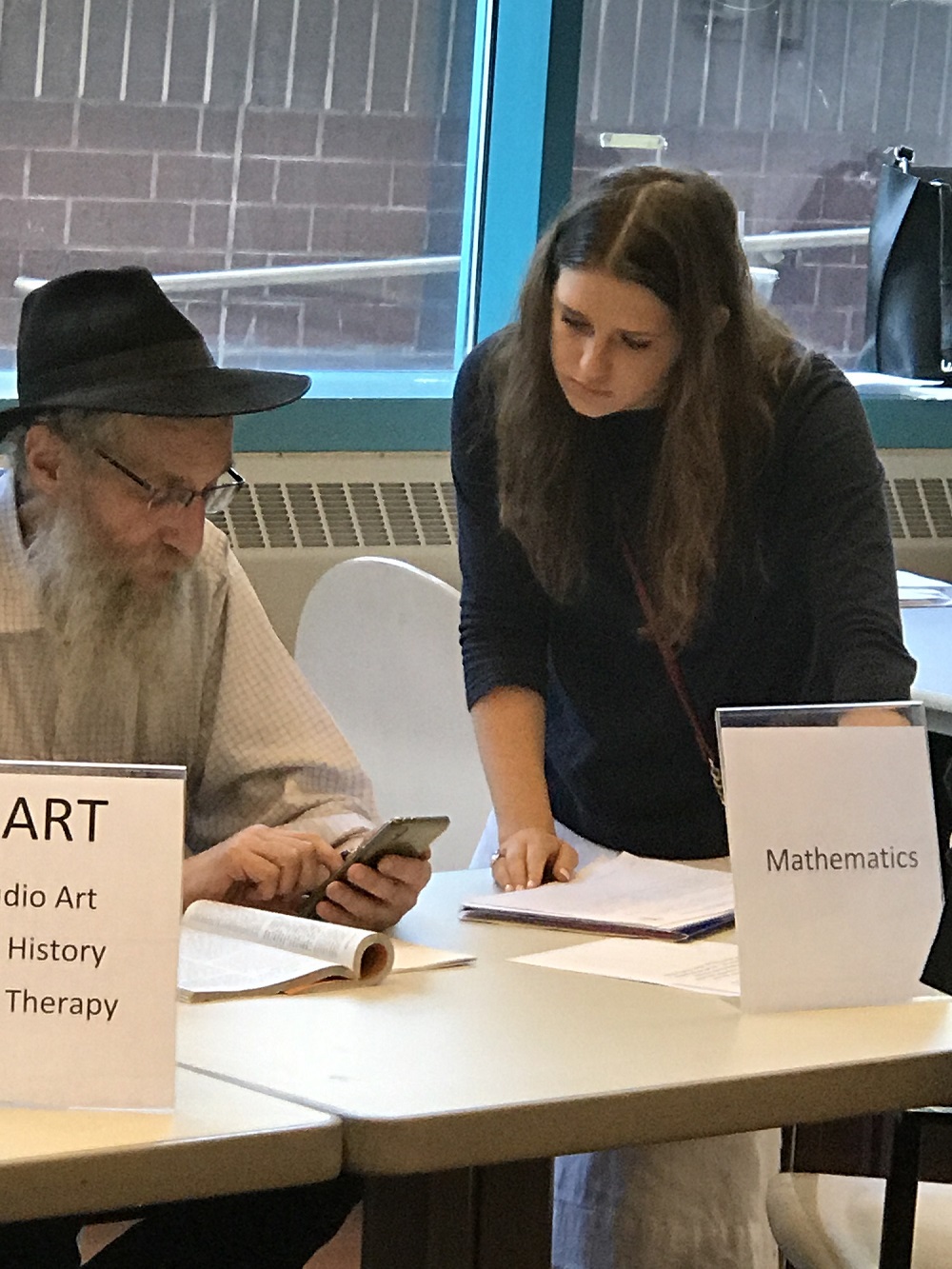 More than 210 women signed up for their first classes at Lander College for Arts and Sciences (LAS) in Flatbush. Students—hailing from Brooklyn, Queens, Monsey, Lakewood, Passaic, Long Island, seven other states and four countries (Australia, Canada, Israel and Gibraltar)—met with academic advisors and learned about the various majors the college offers. The room was abuzz with a steady murmur of students thinking about their future.
Adina Cohen, of Kew Gardens, said she planned on becoming a physical therapist and intended to apply to Touro's School of Health Sciences as soon as she completed her pre-requisites as part of LAS's pre-PT program.
"It's a medical field without needles," Cohen explained about her field of choice. She said she had a very specific reason for choosing LAS: "I know I'm not going to be an undergraduate for a very long time, but I wanted an in-depth learning experience," she said.
LAS's flexibility also enables her to work full-time as a teacher's assistant at the Beis Yaakov of Queens.
The sentiment was echoed by several students who signed up for classes ranging from Calculus to Introduction to Programming, and Literature of the Holocaust to Introduction to Public Speaking.
"The energy and excitement are palpable as the students prepare for a new semester filled with opportunity," said Chaim Shapiro, director of LAS's Office of Student Success.
Student Esther Abady said she had signed up for chemistry, micro-economics, pre-calculus, and basketball. "Hopefully I'll go to medical school afterwards," she said.
Lander College of Arts and Sciences Dean and Touro College Vice President Dr. Robert Goldschmidt said this year's class was "very promising."
"We are excited for the new school year," he said. "We are welcoming a group of highly talented students to LAS. Many have studied in Israel and many are interested in the sciences. The new class incudes 19 students accepted to the LAS Flatbush Honors Program."
This year, the school boasts two impressive new faculty members: Dr. John Loike, a former full-time professor at Columbia University who will be joining the Touro faculty as a full-time professor; and Dr. Jonathan Parach, an adjunct professor at Columbia Medical School, who will teach medical physiology.
The beginning of classes also marked the end to some students' career at LAS. Leah Gancz, a Biology major, will be taking her last classes this semester before applying to medical school.
"The classes were small and amazing," Gancz said about her time at LAS. "In the last few semesters I took a lot of chemistry classes with Dr. Evan Mintzer. Because of the small class sizes, he was able to cater the course to our needs. I loved it."