The Drama of It All
Professor Yael Krumbein's students often say she brings history to life. Here's why.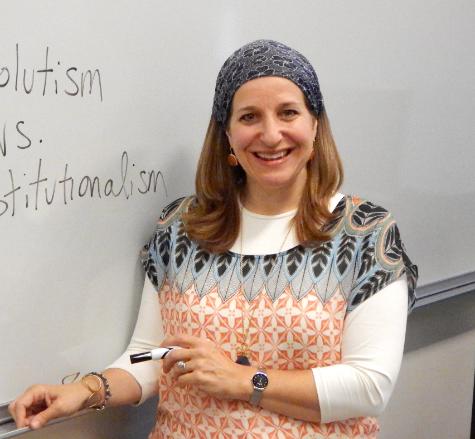 With her flair for fashion and spirited personality, Professor Yael Krumbein's animated history classes more often resemble theater productions than typical college lectures.
As a teenager, Professor Krumbein originally wanted to be a lawyer. She imagined passionate courtroom dramas: convincing a jury of a murderer's guilt, winning a successful plea bargain for her client. It was only when she realized that attorney work is less about the action and more about the paperwork that she became disenchanted with the idea.
But as a history professor, her career retains some of the drama she craved as a hopeful lawyer. Just listen to her deliver a passionate lecture about any time period, and you'll be transported to another world—sailing on an explorer's boat in the late 1400s, touring the opulence of the Palace of Versailles in the seventeenth century, sitting in an eighteenth-century French salon listening to Enlightenment ideas, battling the British soldiers during the American Revolution. And she has a willing, eager audience every day: her students.
"I try to teach history so that it comes alive, to make it relevant to today's world," she says, citing her Primary Source Reader—a pamphlet of primary texts, letters, and articles from a specific period—as one of her most valuable tools of the trade.
"I want my students to know that history is more than just names and dates. I want to train them on how to analyze a source, and to think about how the events, ideas and developments of the past continue to affect us today."
And she loves "acting out the drama of it all."
"I didn't even know that that's what would be my favorite part about teaching, but in each semester I find a new crop of students eager to learn. It doesn't seem to get old, even though it is, after all, history."
Professor Krumbein talks quickly, excitedly, oftentimes gesturing largely, as if to encompass all her love of history and hand it to her students. Sometimes she will pause to catch a deep breath, and then go barreling on. Advice given to underclassmen interested in taking her courses usually includes a warning that one's fingers may hurt at the end of each class.
Her "bread and butter courses," as she calls them, include History I (Early Modern History) and History II (Modern History), which she teaches at both Lander College of Arts and Sciences (LAS) in Flatbush and Lander College for Women (LCW) in Manhattan. Some semesters, she also teaches different electives in Jewish history, such as History of Sephardic Jews – a topic on which she has often lectured in community and adult education forums in the tristate area.
Recently, she has also been working as a faculty liaison with several deans on various administrative projects, such as the new online course evaluation system.
Professor Krumbein graduated from Columbia University with her master's in modern Jewish history, doing research on the impact of modernity on traditional society and focusing on a group of Eastern European rabbinic leaders. She also has expertise in the history of Jewish women, and has presented on the aforementioned subjects at several academic conferences.
After graduating from Columbia, Professor Krumbein taught Jewish history and Judaic studies in local yeshiva high schools. While teaching at one of these schools, Bruriah School for Girls, she led several Jewish heritage tours to different countries, including Spain and Ukraine. During that time she also taught at numerous adult learning programs like the JCC of Manhattan, The Jewish Renaissance Center and the Women's Institute for Torah (WIT). In 2012 she lectured at an Orthodox Union-sponsored "Yom Iyun L'Nashim" on the topic of "A Day in the Life of a Jewish Woman in Medieval Times," and was subsequently featured in Mishpacha Magazine as an expert on this same topic in an article titled "Far from Camelot."
Two years ago, the mother of three lost her husband suddenly. The tragedy had a tremendous impact on her.
"After that, I thought my world would fall apart," she says. "But I owe it to my children to make sure we thrive, and I try to notice the daily miracles in our lives—these are no small things to be grateful for."
She also finds comfort in her large alumnae base. Over the years, she's taught thousands of students, and often meets them in random places. One summer, while walking in a bungalow colony with her children, three different women recognized her as their history professor and came out of their cabins to tell her so.
"I love meeting alumnae—it's a great feeling to know that they hold onto impressions from our studies together.
"It's also nice for my children to see the impact their mother has made on her students."