"There is So Much to Gain"
LAS Welcomes More Than 200 Women for Fall 2018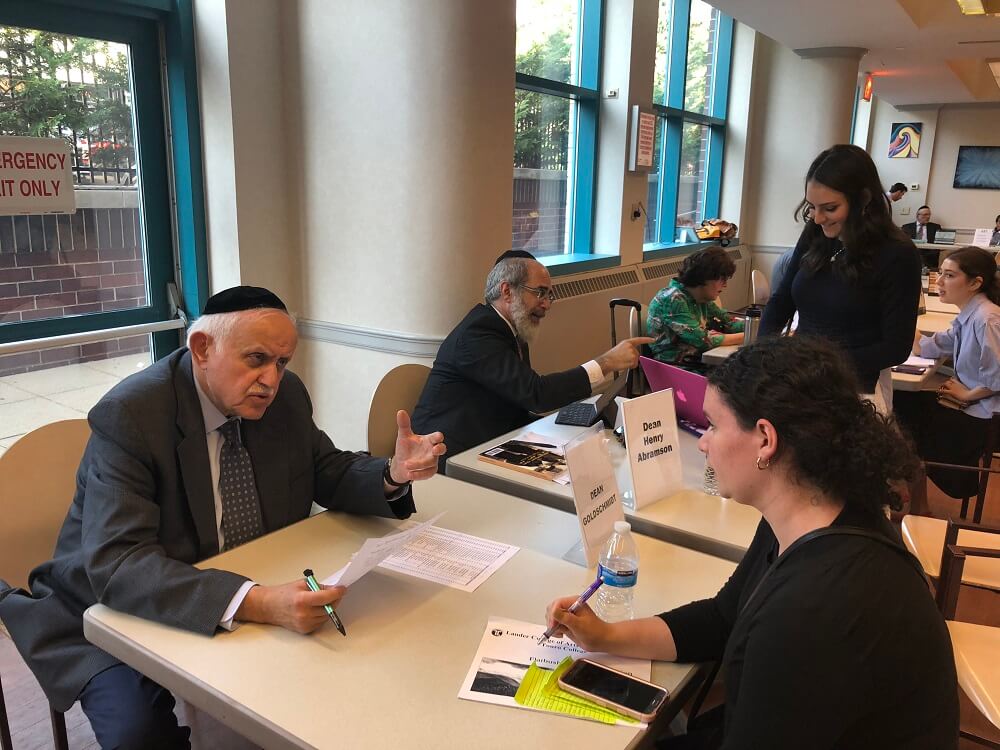 Lander College of Arts and Sciences in Flatbush welcomed their latest class of female students on August 26, adding more than 200 women to the already-thriving student body at LAS.
"It's an incredibly diverse class," said LAS Dean Dr. Robert Goldschmidt. "I'm impressed with how motivated and goal-oriented our new students are."
A case in point was student Chaya Meissner, a graduate of a Beis Yaakov School in Montreal, with whom Dr. Goldschmidt casually struck up a conversation in French. Meissner's four siblings are all enrolled in Touro schools; her brothers attend Lander College for Men, one sister is in Lander College for Women—The Anna Ruth and Mark Hasten School and another is a medical student at New York Medical College. Meissner herself is considering a career as a physician assistant. "I'm looking forward to making friends and gaining knowledge and experience," said Meissner about her hopes for her college experience.
Chaim Shapiro, director of LAS's Office of Student Success, said it was the busiest registration he had seen since he began working for the school eleven years ago.
"This is my favorite time of year," said Shapiro. "Students have unlimited opportunities and possibilities before them."
Some students like Etti Svei, of Lakewood, already knew where their future lay. "I'm going to become a biologist or do research in biology," said Svei. She plans to take as many credits as possible and her course load included classes in anatomy, chemistry and calculus. (This was her first full semester, she took Biology 1 and Biology 2 over the summer.) "I was always interested in the sciences."
Others like Basi Noble were more open to ideas. "I want to try things out," she said as she debated between signing up for a math class or a class in chemistry.
First-year student Baila Gunsburg was thinking about a career as an optometrist. "There is so much to gain from LAS," she said.
"The new semester is indicative of the exploding growth at Avenue J," emphasized LAS Dean Dr. Henry Abramson. This semester, Dr. Abramson is teaching "Survive Jewish History," a gamified course where students had to respond to the existential challenges Jews have faced throughout history. "The best form of learning isn't repetition," said Dr. Abramson. "It's discovering a new idea or a new way of thinking."
Sarah Weiss came from Pittsburgh to attend LAS. "I'm looking forward to the warm atmosphere," said Weiss. She planned on majoring in computers. "I feel like it's a field that always has opportunities."
Weiss's friend Chaya Oster, also from Pittsburgh, moved to New York to attend LAS as well. "I wanted to be in a Jewish environment," she said. She was hoping to go into education or child advocacy work. "I want to be able to help children and touch their lives for the better," she said.
Among the new offerings for female students at LAS is Medical Physiology, a class taught by Columbia Medical School professor Dr. Jonathan Barasch. LAS Biology Department Chair Dr. Robert Bressler explained that the course will challenge students to find the root cause of medical issues and then find the solution. "Students will develop an expertise in comprehension and not just memorization," said Dr. Bressler, adding that it fulfills a key component of LAS's educational mandate. "Education is not just an accumulation of knowledge, it's the application of knowledge."