Tikkun Olam in Nepal
Students from Touro Undergraduate Schools Organize Medical Mission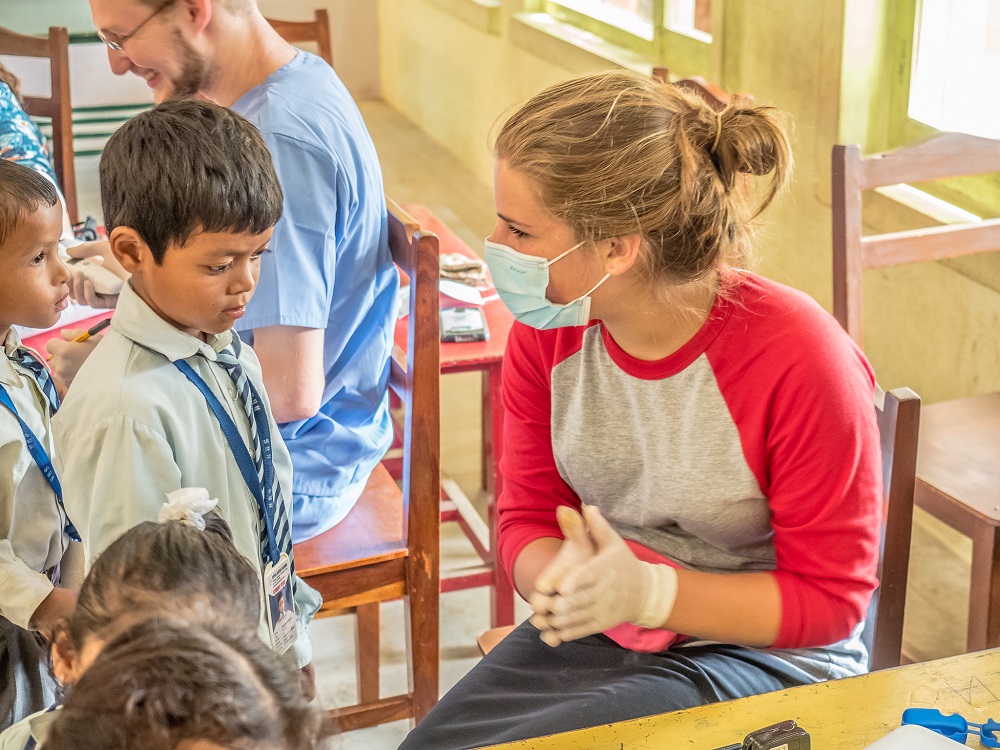 The Nepali children who gathered around Lander College for Men (LCM) student Eli Pollack as he tried to teach them to juggle might have noticed something different about him: his kippah.
Pollack together with twelve other students from LCM, Lander College of Arts and Sciences (LAS) in Flatbush, and New York School of Career and Applied Sciences (NYSCAS), spent a week in Nepal this summer running medical camps and touring the country.
While the kippah might have surprised the children, the children had their own surprise for Pollack.
"I was surprised by how happy and well-behaved the kids were," said Pollack. "I thought it would be different because of how poor the country is."
The medical mission for Orthodox Jews was largely the work of Leah Gancz, a biology major and senior at LAS-Flatbush.
"I always wanted to do a medical mission," recalled Gancz. "But it's hard to keep Shabbat and kosher if you're the only person who is observant. I asked in my chemistry class at the Avenue J Campus if anyone would be interested in joining and seven or eight people raised their hands."
She brought her idea to Touro President Dr. Allan Kadish who was receptive to the proposal. Dr. Kadish, in turn, put her in touch with Touro Executive Vice President Rabbi Moshe Krupka, to make it happen.
"There are all these undergraduates who want to go into medicine, and try to get some experience in the field," said Gancz. "But there is a limit of what we're able to see. Performing a medical mission allows us to see what it's like in a country where they don't have the same access to medicine as we do in the United States. It gives you a better appreciation of the field you're going into."
Gancz also contacted Chabad in Nepal and made arrangements for kosher food.
Gancz's Orthodox faith also motivated her to plan the trip.
"There's a Jewish concept of Tikkun Olam," Gancz stated. "It means fixing the world. We're supposed to go out into the world and try to make it better. Helping out in Nepal truly made a difference for the people there."
When a first location in South America was decided to be too dangerous because of the Zika virus, Gancz considered Nepal.
She reached out to International Volunteer HQ, a New Zealand-based non-profit that organizes volunteer travel missions, and they put her in touch with Nepali Vertical Ascent. "Fifty-seven percent of people in Nepal live below the poverty line," said Gancz. "We figured that whatever help we could give them would be welcome."
Gancz recruited students from across Touro. Each was required to raise $400 for medical supplies along with covering their own flight. The trip was divided between working at make-shift hospital centers and touring. The group was chaperoned by Steve Jacobs, a professor at Touro's School of Health Sciences Physician Assistant-Bayshore (Winthrop Campus) program. The trip was partially sponsored by Touro College of Osteopathic Medicine (TouroCOM).
During the first part of the trip, the students, along with two Nepali doctors, set up a medical camp inside two schools in Kathmandu. Students took the vitals of more than 200 children, while giving them a quick evaluation before sending them to the doctors. Scabies, lice and vitamin deficiencies were common.
Many of the children also had issues with their teeth.
"We saw a lot of mouths full of tooth decay," she said. The group provided the children with toothbrushes and toothpaste and spoke to them about the importance of oral health.
The group was surprised by the general positive atmosphere in the schools and how welcoming the Nepali population was.
"I didn't realize how happy the kids were," said NYSCAS student Ben Barris. "I thought the kids would be down but it was the opposite. The kids were very happy. It was eye-opening. We're so lucky for what we have in the United States. I gained appreciation for it."
For the third day, the students set up a medical camp in a rural village in Pokhara.
"Almost everyone had super high blood pressure," recalled Barris. "The older they got, the more likely they were to have high blood pressure."
The rest of the week the group toured Nepal engaged in a variety of activities including hiking and paragliding.
Gancz said she is planning to return to Nepal after she finishes medical school.
"I hope to go back as professional and help out more people," she explained. "The trip changed the way I saw things. I came back and looked at how much I had and I thought about how happy the people in Nepal were. It made me wonder if all of this stuff we have is really that necessary."