Touro Alum and Jewish Music Singer Pursues Passion for Medicine
Lander College of Arts & Sciences Grad Dobby Baum on Her Success as a Musician, Her Plans to Practice Medicine, and How She Balances It All With Her Young Family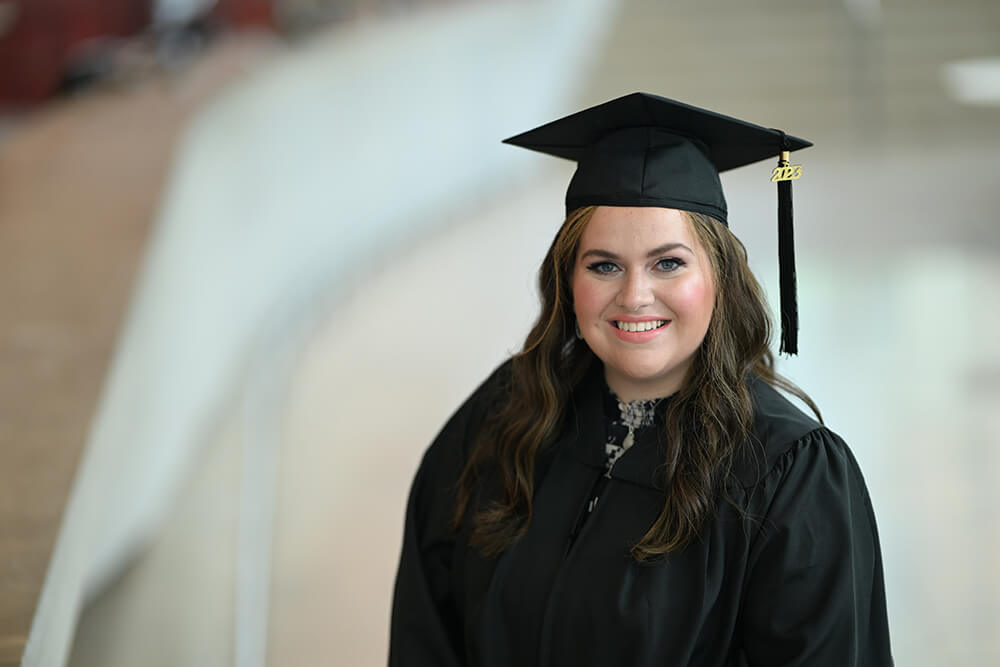 Dobby Baum
Dobby Baum (Lander College of Arts & Sciences, 2023), shares how COVID prompted her to pursue a lifelong dream to become a doctor, why she won't give up her singing career, and in what field she ultimately hopes to practice. Dobby offers valuable advice for other adults with families who are embarking on a higher education journey.
Can you share a bit about your background and your childhood in London as the youngest of 10?
I was born in Stamford Hill, London, and grew up in a Chasidic family. When I was seven, my life changed as we moved out of town to Edgware, where my father became a Rabbi. I continued attending school in Stamford Hill and received a top-flight education, excelling in art, science and mathematics. I also studied piano professionally under the UK's Associated Board of the Royal Schools of Music and became a certified pianist. Being the youngest of 10 meant that I had no younger siblings to look after and I often got bored, so my parents sent me to piano lessons, and I performed in many shows and events from the age of 13 years old. I naturally gained leadership skills and independence, and graduated high school at 16 years old with an award of excellence in both Judaic and secular studies.
You have a career as a Jewish music singer. Is that a longtime passion? How did you get into the field and where do you perform?
Ever since I could talk, my family remembers me singing pitch perfect and with supreme confidence. My first big solo was at my kindergarten graduation at four years old. By the time I was seven years old, I was singing and composing harmonies.
My mother had the most beautiful voice as a child; however, when she was 13 years old, she damaged her vocal cords in summer camp from screaming and singing too loudly. She therefore encouraged us to use our voices properly. I started professional voice training once I turned 18 years old, and I haven't stopped since! Being a female singer in the Orthodox Jewish world was a far-off dream, but it wasn't a real possibility in London, since there were no British Orthodox singers for me to follow.
I met my soulmate and husband, Pinny Baum, in 2015 and since he is a New Yorker, we moved across the pond in May 2016. I had my first live concert booking a few months later and will never forget the surreal experience of singing in in front of an all-female audience. I was so connected to that stage, and it was in that exact moment that I knew I was born to perform. Since then, I have performed at numerous events and concerts in London, California, Las Vegas, South Carolina, Savannah, New York, Tennessee, Vermont, Utah, Manchester (UK), Denver and many more places around the globe. Currently I am working on releasing my debut solo album with my brother Gershy Schwarcz, from Edgware Studios.
What was your major at Touro? What motivated you to pursue higher education, at this stage of your life as a mother of two?
I was a premed student who majored in biology. Ever since I was in elementary school, I've had a love for science. I actually used to read biology textbooks as a novel, and memorized biology terms and definitions word for word. In high school, my mother called me "Doctor Dob"—although I never thought I would actually become a doctor. I received perfect scores on my standardized science exams, which I completed at age 15.
I applied to Oxford University Online, and took my full Biology A-Levels asynchronously (associate degree level). I ordered a mini lab on Amazon for myself and kept the test tubes, PH paper and chemicals in my bedroom.
When I became pregnant I was very sick with HG (hyperemesis gravidarum), and therefore any dreams of pursuing my higher education were paused. I was really busy with a full roster of voice students privately and performing in small concerts locally. My singing career was progressing really nicely in New York, and therefore I didn't feel the need to get my bachelor's degree. Thanks to social media, I was able to share videos of my performances which led to additional bookings.
When COVID hit in March 2020, suddenly all my concerts were cancelled, and I didn't know if I was ever going to sing on a live stage again. It really hit me, and made me question my life choices. My husband said, "Remember you always wanted to be a doctor? Well, why don't you go back to school and follow your dreams?" I dwelled on that thought for a couple of months, and saw how physicians were some of the only professionals who were busy during COVID. I finally got the courage to apply to Touro and started in January 2021 as a pre-med student. My British college credits couldn't be transferred so I had to start from scratch.
I loved the Jewish environment and all the classes at Touro. Juggling two toddlers, singing and college wasn't easy, but I decided that I would never give up my singing career, as it gives me life. I spoke to various medical professionals who told me not to worry, that I will always be able to sing and practice medicine simultaneously. They said it's healthy to have an outlet or hobby while dealing with intense medicine daily.
Your ultimate goal is to become a doctor. What field of medicine do you want to practice and why? What's the inspiration for the career switch?
While I'm definitely keeping an open mind, I would love to become an ear, nose and throat (ENT) doctor.
In June of 2022, I travelled to Athens, Greece, by myself for two weeks, on a medical internship. I got to scrub into surgery and shadow doctors from 10 different medical specialties—that gave me clarity in eliminating certain medical specialties. For example, I scrubbed into orthopedic surgery in the Athens medical center, and I noticed how strong the surgeon had to be in order to lift the patient's knee, to perform knee replacement surgery. I knew then that this specialty was not for me.
Since constantly training and singing professionally, I have visited my ENT various times and become more fascinated each time with the anatomy of the vocal cords and nasal passage area. I feel becoming a laryngologist would be an ideal way for my singing and medical career paths to meet in perfect sync.
I actually wrote a research paper for Bio 493, about the anatomy of the larynx and a singer's voice, which has been published in the Touro Medical Journal. It was fascinating to me how music and medicine are a perfect combination for a biology research topic.
Since I don't plan on stopping to sing and perform—if anything, my singing career has only begun—I'm excited for what's to come in both medicine and music. To me, both careers have a lot in common—I get to help people and inspire others. So I'm calling it a "career upgrade" rather than a switch.
What advice do you have for others who want to go to school as adults?
My most important advice is to take frequent breaks and travel during semester breaks and holidays, since studying and mothering take up a lot of mental energy. I always try to recharge my batteries in order to succeed in my life. Over the past seven years, my family travelled to 26 states in the U.S., four provinces in Canada and many countries. We road trip, fly and have fun together during my study breaks. Also, I always try to switch off my social media while travelling with my family. It's important to live in the present, and amazing for my children to spend quality time with me during vacations. Then they don't resent when I work or study long hours; instead, they respect and appreciate me as their mother.
My second piece of advice is to listen to your own heart and not outsiders. If you want to go back to school as an adult, do not hesitate, as everything is possible with the right mindset and support.
And last but not least, my advice is to go to Touro. It's a school that prepares you academically for your profession in an environment that is warm and supportive. I will remain a proud Touro alum forever.
Where can people find you online?
Dobby Baum on Instagram; Dobby Baum on YouTube; Dobby Baum on Spotify; Dobby Baum on Apple Music