Touro Alum and Kosher Food Influencer Talks Food, Travel, and Success
How Naomi Nachman, "The Aussie Gourmet," Went From Teaching to Kosher Media Marketing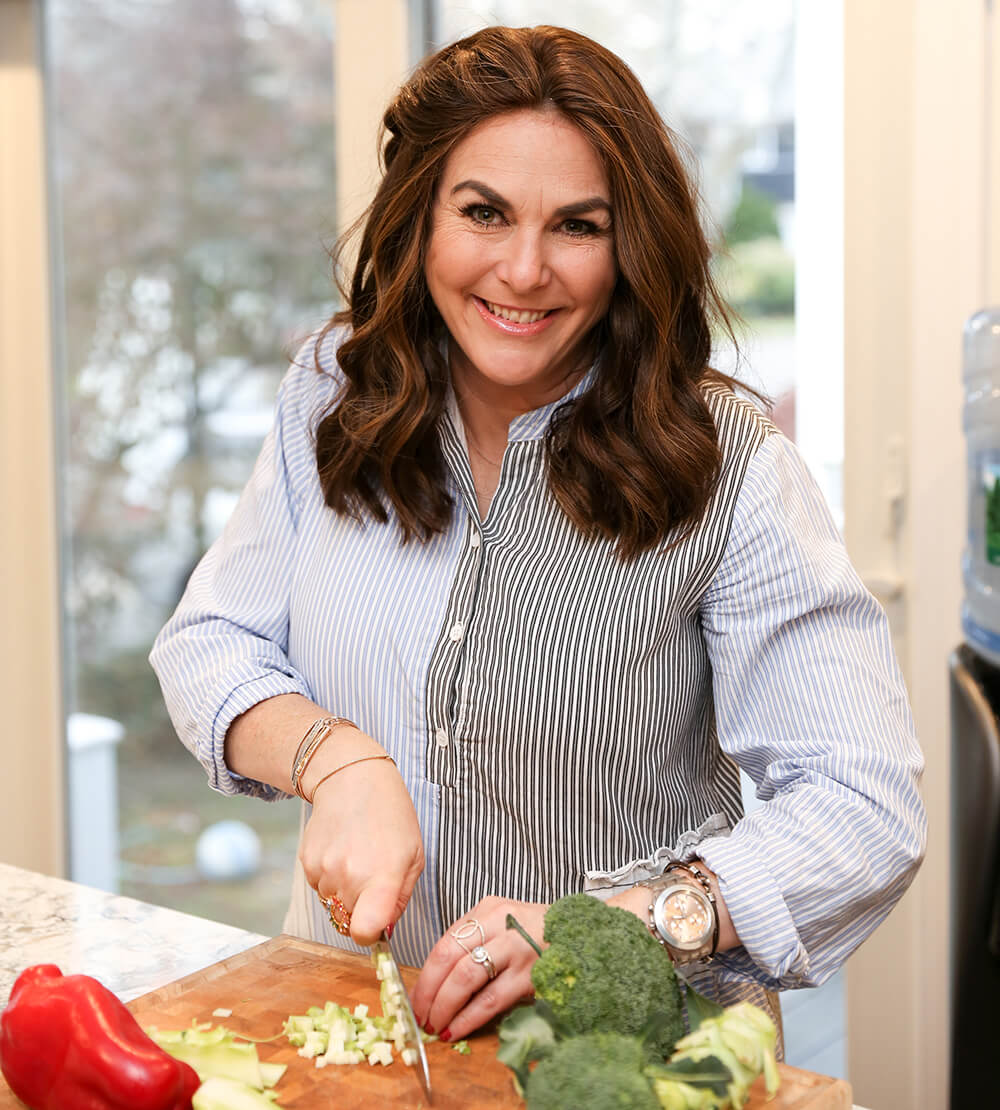 Naomi Nachman
Naomi Nachman's life revolves around food. For the past 17 years, she's shared her delicious recipes, taught hundreds of cooking classes, authored two cookbooks and developed a huge following on social media. Hear her expert advice for aspiring influencers, how she began her professional life as a teacher and why her educational training from Touro's Lander College of Arts & Sciences in Flatbush helped build her brand and propel her career.
How did you get started as a kosher food influencer, recipe columnist and cookbook author?
I earned my bachelor's degree from Touro College in Judaic Studies and Education, and taught preschool for many years. When I started working at the Educational Alliance on the Lower East Side of Manhattan, they asked me to do a sushi class and it was a fun experience. I did it a few more times and truly enjoyed it. Eventually, I decided to leave teaching to start Aussie Gourmet, my own business offering personal chef services and cooking classes. As a teacher by trade, teaching classes came naturally to me. Over the years, I employed different marketing tools to drive people to my catering business—a radio show, blogging and other kosher social media activity. After a while, I realized I didn't need the catering business; the cooking classes were enough because I had launched a career as a kosher influencer, or kosher media marketer, partnering with businesses to promote their products or services. I expanded by giving classes to schools, shuls and for Pesach programs, Bar and Bat Mitzvahs. I also do team-building exercises and run "Chopped"–style cooking competitions for corporations and other organizations all over the country.
Traveling is also part of my business now. While working on Pesach programs, I networked with organizers and began working with Miriam Schreiber's Legacy Kosher Tours. I do cooking demos for them and help with social media. I have been to Panama, India and six Asian countries in this role. My husband, Zvi, and I have run two Birthright Trips as well, for Israel Free Spirit and my family and I have traveled extensively through Africa and Europe.
I enjoy recipe development and share those on Instagram @naominachman as well as in my weekly column in The Jewish Home. I have also published two cookbooks— Perfect for Pesach and Perfect Flavors and talk food and cooking on my radio show on the Nachum Segal Network called Table for Two with Naomi Nachman.
Since Corona started, I began doing my classes over Zoom and have done 70+ classes that way. You need to be creative and keep the flow, even as the world changes.
You have 30,000 + followers on social media. How do you keep them engaged on a constant basis?
I talk to them like they're my friends and many have actually become my friends. My followers are people in the food business and people interested in cooking. I ask them questions, they answer me and we are in constant dialogue. I answer every single question that comes my way and my followers have become part of my family. I work really hard at maintaining my online community. I spend hours every day on it. When I go out to dinner, I show them what I'm eating and when I'm food shopping or cooking, I keep up a running dialogue, showing them what I'm buying or producing and answering their comments and questions.

In your opinion, what does it take to become a successful influencer in your industry?
Hard work!!! Another key to acing this game is networking. It's all about building and maintaining relationships—between you and your followers, you and your customers, you and others in the industry. My motto is—"Let's all work together and everyone's business will grow." It's important not be self-centered or self-focused. Partner with others and you'll amplify your own voice and multiply your impact. I am contacted daily to promote various products and services to my followers. I am a big supporter of women-owned businesses, Israeli enterprises and local businesses.
How did your Touro education help propel your career?
I have to thank Dean Robert Goldschmidt of Touro College in Flatbush. When I came to this country from my native Australia, he gave me the opportunity to start life in America, to learn about New York and become part of the community. He gave me a foot in the door and for that, I am forever grateful... I loved Touro and then my brother and cousin ended up going to Touro as a result of my excellent experience. In terms of my career, everything you do is a building block for the next stage. Touro gave me a really strong foundation. I took education classes and became a better teacher and it translated to my cooking classes. I took communications classes and improved my oratory skills when I give public presentations. I learned about Jewish history at Touro and it helped with my travel blog.
What do you love most about your job and what do you find most challenging?
I love everything about the job, but if I had to pick out what I love most—it's people, food and travel. Corona has been very tough on me as there's been no traveling for months and minimal contact with people.
What do I find most challenging? Washing the dishes! As much as I love cooking, I hate cleaning up!
What advice would you give new grads interested in launching careers as influencers?
It's important to understand that you can't start out planning a full-time career as an influencer. It won't pay your bills in the beginning. What I recommend is to start off by earning a college degree in a field you enjoy. Find your passion and then start sharing about it on your favorite social platforms. Eventually, as you build a following, you may be able to make it a full-time career. Once you start your business, you have to network, reach out to people and work to create partnerships with companies in the space who can magnify your message by sharing with their own built-in audience.
People now hire me for cooking demos and competitions. I've built partnerships and am a brand ambassador for kosher.com, where I have a video channel. I'm also a brand ambassador for Empire Chicken and Gourmet Glatt. I have done recipe development for Tropicana, Breakstone's butter, Manischewitz, OreIda, Abeles & Heymann and more.
So back to my advice—Find your passion and do what you love and you'll be successful. You have to work hard and put in the hours. I had a whole career before I got into kosher media marketing. I then found my passion, put in the time and it just evolved once social media started. I have now been in the food space for 17 years and I wouldn't trade it for anything else!
Your industry partners will want to see your numbers—how many followers, how much engagement, how much influence and how you sell. But beyond that, it's important to be authentic. You must find your own voice and use it. For me, it's been my passion, personality and, of course, my accent that helped distinguish my brand as unique. Before I started, I wrote down 50 different ideas and suddenly, Aussie Gourmet came to me and now this brand is closely connected with my name.