VITA Program is a Smashing Success at Touro's Lander College of Arts and Sciences in Flatbush
Students Help Low-Income New Yorkers File Taxes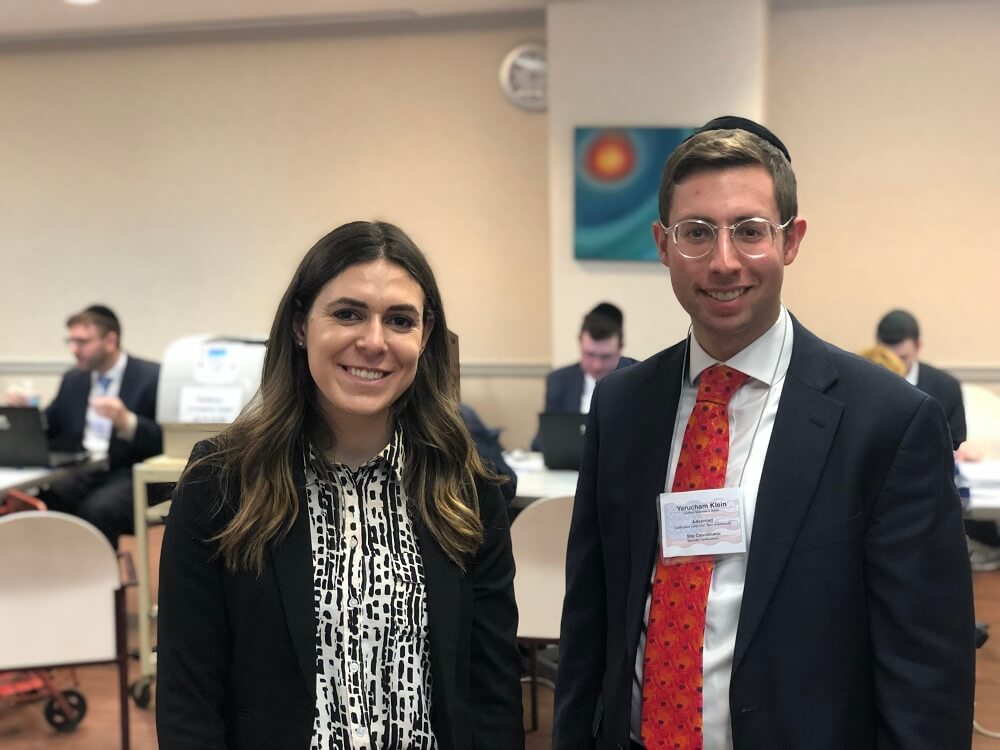 For the eighth consecutive year, students from Touro's Lander Colleges helped low-income New Yorkers file their taxes free of charge as part of the Volunteer Income Tax Assistance (VITA) program in conjunction with the IRS. By the second Sunday of the program on Feb. 24, word of the professionalism and competence had already spread throughout Brooklyn and the Lander College for Arts and Sciences (LAS) auditorium was filled with residents from all over New York busily filling out forms while waiting for a tax preparer.
"This is an important opportunity for Touro students," said VITA site coordinator and recent LAS alum Yerucham Klein who is running the program with his fellow coordinator, Elisheva Rosenberg of Lander College for Women. "It is something they can put on their resume as well as an opportunity to give back."
Klein, who was also site coordinator in 2018 and just accepted a position with EisnerAmper, said that the program had been unusually busy. He estimated that they would file more than 300 tax returns by the end of the tax season. Usually the early Sundays are comparatively quiet, but more than 60 people showed up before noon on February 24. Klein graduated in January and passed three of the four CPA tests, while also pursuing rabbinic ordination from Yeshiva Torah Vodaath during his time at LAS.
The program runs for two months during tax season on Sundays. The majority of the volunteers were from LAS, however several volunteers were from other Touro undergraduate programs including Lander College for Men in Queens (LCM), Lander College for Women in Manhattan (LCW). Professor Shammai Bienenstock of LAS provides academic supervision for the program while Joshua Zilberberg, a senior advisor at the LAS campus, is responsible for administrative coordination.
"VITA serves several goals for us," explained Professor Bienenstock. "It gives our students some real-world experience in the world of tax preparation; it allows our students to interact with the diverse population groups of New York and finally, the program helps us fulfill Touro's mission of giving back to the community."
As part of the program, participants bring in their income statements along with valid forms of ID. While they wait to see a tax preparer, they fill out a basic form describing their income and living status. A tax preparer then goes over it with them, enters it into tax software which is then double-checked by a second reviewer, before it is officially filed. Participants are eligible for the program if their income is below $58,000, as set by the IRS.
Rosenberg, a student at LCW, will graduate in June and already has a position lined up at EisnerAmper as a personal wealth advisor. (She received the job offer through contacts she made at Touro's biannual career fair). Aside from being able to help others, the program gave her a practical advantage during her interview with her future accounting employer. "My interviewers knew about the VITA program," said Rosenberg. "We immediately had something to talk about."
Jacqueline Frazier, whose daughter is a security guard at LAS, had her taxes done by a LAS student. She was pleased with her experience. "They filled out my forms and I enjoyed the service," said Frazier, who works for the City of New York in Human Services. "They're helping people."
This was the third year that Tzvi and Karen Langsam of Brooklyn had their taxes done by LAS students. "It was a very good experience, said Karen. "The students are very professional."
Esty Shechter, an accounting student at LAS who works as a bookkeeper, said she wanted some tax experience. "It's a good opportunity," she said. "I never filed my taxes before, and I wanted that experience before I become a full-fledged working professional."
LAS student Judah Wagner, of Woodmere, New York, worked as a greeter ensuring that clients who came to have their taxes done carried the right forms and were residents of New York (Some New Jersey residents were turned away). "I thought it would be an exciting opportunity to learn about the tax process."
Shoshana Weinfeld of LCW, worked as a greeter and was one of the few students not in the accounting field. (She's a computer science major) "It's a really nice program," she said. "It's a chance to help people get their tax refunds."