The Science Journal - Volume VII - Number 2 - Spring 2014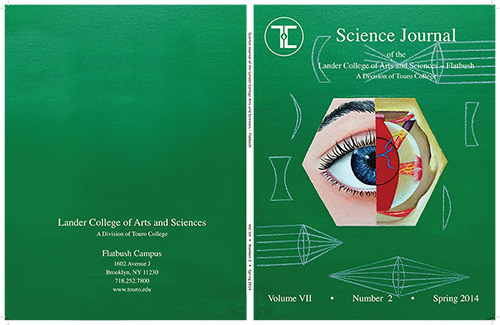 ‌This issue has several articles about the nervous system and one on Myopia. Art student Karen Bleich prepared an original painting of the eye and several muscles that are associated with it. If you look carefully you will see the nerves (yellow) on the muscles. The addition of Karen to our staff continues the tradition of making "The Science Journal of the Lander College of Arts and Sciences – Flatbush" a publication that is truly of the students. All writing, reviewing, editing, layout design and cover illustration are performed by those students on the Masthead with the exception of the additional reviews provided by the faculty reviewers and the oversight of the project by the faculty Advisor, Dr. Robert S. Bressler.
This issue completes Volume 7 and marks seven years of publishing this journal. We appreciate our readership. Any comments, manuscripts for consideration, and other communications may be sent to tourosciencejournal@gmail.com.
Editors-in-Chief
Shaina Rivkin-Drizin
Daniel Zelefsky
Associate Editors
Sara Friedman
Atara Hakakian
Eli Hershkop
Justin Konig
Alexander Malek
Tzirl Moscowitz
Mark Proffesorske
Esther Shick
Isaac Traube
Daniel Wiedberg
Art Editor
Karen Bleich
Layout Advisor
Tony O'Hara M.F.A.
Charter Editors
Rivka Borgor
Michell Gorden-Grunin
Faculty Reviewers
Robert S. Bressler Ph.D.
Majeedal Chowdhury Ph.D.
Allan Levine Ph.D.
Faculty Advisor
Robert S. Bressler Ph.D
Chairman of Undergraduate Biology Programs
Lander College of Arts and Sciences
A Division of Touro College
Flatbush Campus
1602 Ave J
Brooklyn, NY 11230
718.252.7800
tourosciencejournal@gmail.com